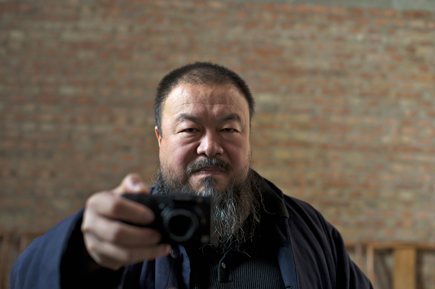 "Ai Weiwei: Never Sorry," a documentary about the celebrated Chinese artist and dissident, and "2 Days in New York," a comic farce starring July Delpy and Chris Rock, open tonight at the Ross. There will be a movie talk about Ai Weiwei on Sept. 16 at 2:30 p.m.

"Ai Weiwei: Never Sorry" is rated R and plans through Sept.20; "2 Days in New York" is is rated R and plays through Sept. 27.

Named by Art Review as the most powerful artist in the world, Ai Weiwei is China's most celebrated contemporary artist, and its most outspoken domestic critic. In April 2011, when Ai disappeared into police custody for three months, he quickly became China's most famous missing person, having first risen to international prominence in 2008 after helping design Beijing's iconic Bird's Nest Olympic Stadium and then publicly denouncing the Games as party propaganda.

Since then, Ai Weiwei's critiques of China's repressive regime have ranged from playful photographs of his raised middle finger in front of Tiananmen Square to searing memorials of the more than 5,000 schoolchildren who died in shoddy government construction in the 2008 Sichuan earthquake. Against a backdrop of strict censorship, Ai has become a kind of Internet champion. His frequent witty use of his blog and Twitter, he is able to organize, inform, and inspire his followers, becoming an underground hero to millions of Chinese citizens.

First-time director Alison Klayman gained unprecedented access to the charismatic artist, as well as his family and others close to him, while working as a journalist in Beijing. In the years she filmed, government authorities shut down Ai's blog, beat him up, bulldozed his newly built studio, and held him in secret detention; while Time magazine named him a runner-up for 2011's Person of the Year. This compelling documentary is the inside story of a passionate dissident for the digital age who inspires global audiences and blurs the boundaries of art and politics.

There will be a Movie Talk about "Ai Weiwei: Never Sorry" with speaker Marco Abel Sept. 16 at 2:30 p.m., following the 1 p.m. screening. Admission to the Movie Talk is free and open to the public. Admission for "Ai Weiwei: Never Sorry" is at regular Ross prices. The Movie Talk series is sponsored by the Friends of the Ross.

Born in Köln, Germany, Marco Abel is an associate professor of English at UNL where he teaches film theory and film history. He is the author of "Violent Affect: Literature, Cinema, and Critique After Representation" (University of Nebraska Press) and the forthcoming book, "The Counter-Cinema of the Berlin School: Redistributing the Sensible" (Camden House). He is also the co-editor of "Im Angesicht des Fernsehens: Der Filmemacher Dominik Graf" (text + kritik, Munich), as well as the author of numerous articles on contemporary German cinema and interviews with German filmmakers. He generally teaches courses on European cinema, as well as courses on "Cinema and Terrorism" and "Cinema and '1968'."

In "2 Days in New York," Hip talk-radio host and journalist Mingus (Chris Rock) and his French photographer girlfriend, Marion (Julie Delpy), live cozily in a New York apartment with their cat and two young children from previous relationships. But when Marion's jolly father (played by Delpy's real-life dad, Albert Delpy), her oversexed sister, and her sister's outrageous boyfriend unceremoniously descend upon them for an overseas visit, it initiates two unforgettable days of family mayhem. The visitors push every button in the couple's relationship, truly putting it to the test. How will the couple fare... when the French come to New York?
More details at: http://theross.org