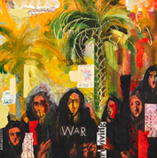 To mark the opening of the exhibition "Women Call for Peace: Global Vistas," the Sheldon Museum of Art is hosting a community conversation exploring the relationships between gender, race, religion and violence 5:30 to 7 p.m., Sept.18.

The discussion is free and open to the public, and includes representatives from Nebraskans for Peace, the Fusion Project at the Asian Community and Cultural Center of Lincoln, UNL Women's Center, Friendship Home and a number of local religious organizations.

Starting in small groups and building outward into a moderated chat, participants will discuss three questions: "Why do differences in race and gender make people so angry and violent?" "Why does religion lead to conflict and violence?" and "How can we respond?"

For more information, go to http://www.sheldonartmuseum.org.