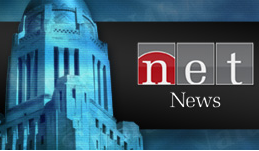 Nebraska is facing a projected budget gap of nearly $1 billion. Gov. Dave Heineman and the Nebraska Legislature are looking at all options to make up the shortfall and pass a balanced budget - as required by the state constitution.

As Nebraskans wonder about the fate of state agencies and programs, NET News brings together four state senators to discuss Nebraska's financial future in "State of the Budget," airing at 7 and 10 p.m., Jan. 21 on NET1 and NET-HD. The program repeats on NET2 at 7 and 10 p.m, Jan. 22; 7 p.m., Jan. 24 and 26; and 6 p.m., Jan. 28. NET1 and NET-HD will repeat "State of the Budget" at 10 p.m., Jan. 28.

During "State of the Budget," NET News legislative reporter Fred Knapp moderates an hour-long discussion with key players in the budget discussion, including Sen. Greg Adams, District 24 (York), who chairs the Education Committee; Sen. Kathy Campbell, District 25 (Lincoln), who chairs the Health and Human Services Committee; Sen. Abbie Cornett, District 45 (Bellevue), who chairs the Revenue Committee; and Sen. LaVon Heidemann, District 1 (Elk Creek), who chairs the Appropriations Committee. The program will be taped in the NET Studio in Lincoln and also includes discussion of the governor's proposals.

Anyone with questions for the four participating state senators can e-mail them in advance of the program broadcast to news@netNebraska.org. "State of the Budget" will also air on NET Radio at 9 a.m., Jan. 22 and be available at netnebraska.org/unicameral.
More details at: http://netnebraska.org/unicameral