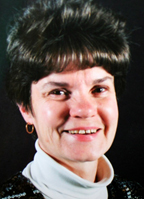 A retirement reception for Valerie Ellsworth is 3 to 5 p.m., Jan. 20 in Andersen Hall's Hitchcock Center. A short program is scheduled for 4 p.m. The reception is free and open to the public.

Ellsworth has worked at UNL for 25 years, including the last nine as administrative technician in the College of Journalism and Mass Communications. She also worked as a customer service representative with Printing Services from 1985 to 2001.

Ellsworth has assisted students in the journalism graduate program. She has also helped research the history of the college, collecting historical documents such as Johnny Carson newspapers, Beverly Keever papers, depth reports and advertising campaign plans.

She graduated from UNL in 1971 with a bachelor's degree in home economics.

Ellsworth said she plans to spend time with family and will work on her hobbies, which include doll making.
More details at: http://go.unl.edu/3n7