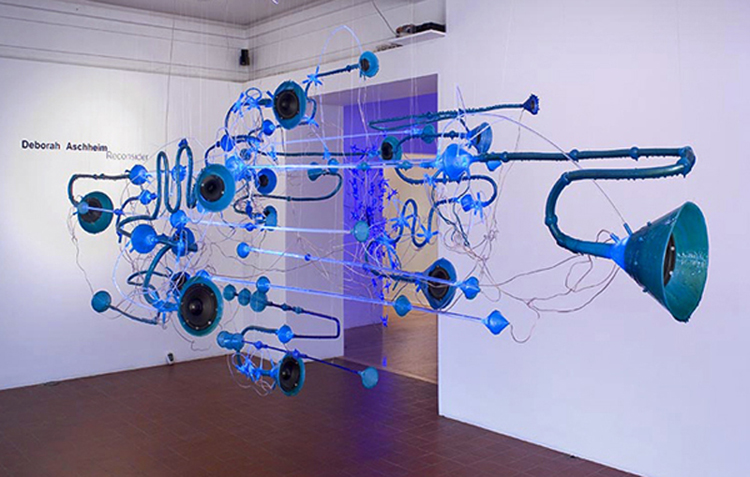 Deborah Aschheim, Hixson-Lied Artist-in-Residence, will deliver a public lecture on her work at 5:30 p.m., Jan. 26 in Richards Hall Room 15. The lecture is free and open to the public.

Aschheim, an artist from Los Angeles who is interested in thought, perception, the function of the brain and the connections between sensations that make intelligent life possible, is in residence in the Department of Art and Art History from Jan. 18-March 18.

She is the first Hixson-Lied Artist-in-Residence. The program was created with a grant from the Hixson-Lied Endowment to complement the instructional program in the department.

While in residence, Aschheim is assigned a working studio in the department, where students can observe and interact with the artist on a regular basis. She is producing artwork for her next exhibition at the John Michael Kohler Art Center in Sheboygan, Wisc.

Most recently, Aschheim served as the Hellman Visiting Artist in the Department of Neurology's Memory and Aging Center at the University of California Medical School in San Francisco, where she met with scientists studying memory and cognition, observed all aspects of the clinical research program and created artworks for the patient waiting areas.

She makes installations, drawings and sculptures based on invisible networks of perception and thought.

"Since 2006, I have been trying to understand memory and forgetting," she said. "A project that has led me to collaborate with musicians and neuroscientists."

She has created temporary and permanent installations for museums, galleries and public art spaces across the United States and in Europe, including the Mattress Factory in Pittsburgh; Laguna Art Museum in Laguna Beach, Calif.; the Weatherspoon Museum in Greensboro, N.C.; The Los Angeles Police Department; and the Wellcome Trust in London.

Aschheim received her Bachelor of Arts degree in studio arts from Brown University in Providence, R.I. She received her Master of Fine Arts in ceramic sculpture from the University of Washington.

Her recent exhibitions include "Deborah Aschheim" at Roger WIlliams University in Bristol, R.I., in 2009 and at Gallery 2.5 at Illinois State University in Normal, Ill.; "Earworms" (with Lisa Mezzacappa) at the Pasadena Museum of California Art; and "Deborah Aschheim: Reconsider" at the Laumeier Sculpture Park in St. Louis, Mo.

In 2009 she received an artist in residence grant from the City of Los Angeles Department of Cultural Affairs. In 2004 and 2008, she received an individual artist grant from the Pasadena Arts and Culture Commission.

She has been an artist in residence at the Fundacion Valparaiso in Mojacar, Spain; the McColl Center for Visual Art in Charlotte, N.C.; and the Headlands Center for the Arts in Sausalito, Calif.

For more information on the artist and additional photos of her work, visit http://www.deborahaschheim.com/.

For more information on Aschheim's residency at UNL, contact the Department of Art and Art History at (402) 472-5522.