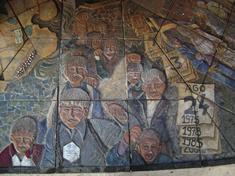 UNL will welcome more than 200 scholars in Latin American and Spanish literatures and cultures from around the globe for the 2012 Mid-America Conference on Hispanic Literature on Oct. 12-14.

Some 70 panels — each with three or four presentations, both in English and Spanish — are planned for this interdisciplinary conference, which is being organized by the Department of Modern Languages and Literatures. They will cover the Hispanic cultural production of all periods, from the Middle Ages to present day — many times from a transatlantic and multinational perspective.

The theme of this year's conference is "Exiles, Migrations, and Movements," including topics as diverse as gender in exile, communities in flight, traveling, transnational identities, patriotism, teaching exile and migration, politics of migration, and globalization.

The panels and presentations will appeal to a wide range of people, not only those who work on literature, since exile and migration are eminently interdisciplinary, said conference chair Iker Gonzalez-Allende, associate professor of modern languages and literatures.

"The conference will offer the chance to learn what role exile and migration have played in Hispanic cultures since medieval times," he said. "They can also learn about the challenges and opportunities that exile and migration entail for both the exiled people and their host countries."

The line-up of keynote speakers includes Jose Angel Ascunce, professor emeritus at the University of Deusto (Spain), who is a specialist in 20th-century Spanish culture and classical culture; Belen Gopegui, a Madrid native and acclaimed novelist and writer of essays, plays and screenplays; and Sophia McClennen, professor of comparative literature, Spanish and women's studies at Pennsylvania State University, where she directs the Center for Global Studies, the graduate program in comparative literature and the program in Latin American studies.

All of the panels and presentations will be at the Nebraska Union and in the College of Business Administration. All are free to attend and open to the public.

The conference is sponsored by the Research Council; College of Arts and Sciences; Office of Research and Economic Development; Faculty Senate's Convocations Committee; Film Studies; Institute for Ethnic Studies and Latino and Latin American Studies; Global Studies; Judaic Studies, Women's and Gender Studies, Medieval and Renaissance Studies, and the departments of Teaching, Learning and Teacher Education; English, History, Political Science, and Sociology.

For more details about the conference, including biographical information on the keynote speakers and the conference program, go to http://go.unl.edu/05c.