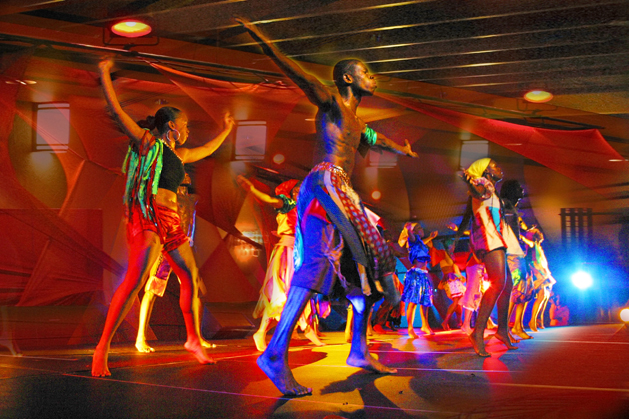 The Lied Center for Performing Arts presents Compagnie de Danse: Jean-Rene Delsoin at 7:30 p.m. Nov. 7. With resonating rhythms and dynamic motion, Haiti's Delsoin gives contemporary movement an Afro-Caribbean pulse.

Tickets are available at http://www.liedcenter.org, by calling 402-472-4747 or in person at the Lied Center Ticket Office, 301 N. 12th St. Ticket Office hours are 11 a.m.-5:30 p.m. Monday through Friday.

The Compagnie de Danse Jean-Rene Delsoin, like its founder and mastermind, moves through the many worlds that intersect in Haiti: the rough-edged and vivacious rural dances and ceremonies, the refined social dance of the cities, and the vivid yet stark lines of contemporary global dance.

Bold swaths of color alternate with somber, focused intensity. The earthy, expressive voices of traditional drums interweave with the precise grace of classical ballet. Modern dance aesthetics and a deep love of popular moves meet beats that migrated from West Africa to Haiti: They all come together effortlessly in bold, emotionally resonant moments that will open doors to a better, more nuanced interaction and understanding between Americans and Haitians, between the artists and their American viewers and counterparts.

"Dance is my prayer," Delsoin said. "I want everyone in the audience to be touched by the colors and the rhythms, and to feel the energy and spirit of the company. I can't imagine a more powerful way to promote understanding between us."

Impeccable performers and evocative artists, the company of four dancers and three musicians has cultivated a distinctively nuanced, sophisticated view of Haitian culture and movement traditions, drawing on ballet and modern dance techniques in dialogue with Haiti's plethora of traditional rhythms and sounds.

While in Lincoln, the company will work with UNL College of Education and Human Sciences faculty and staff to offer community conversations with UNL dance students, local Haitian mission groups sponsored by Lincoln churches and other local international cultural groups. These community and educational interactions are part of an initiative of the U.S. Department of State's Bureau of Educational and Cultural Affairs, Center StageSM.

Center Stage brings compelling contemporary artists from Haiti, Indonesia and Pakistan to the United States to engage the American people in cultural diplomacy as a way to create opportunities for greater understanding. Administered by the New England Foundation for the Arts, with funding from the Asian Cultural Council, the Robert Sterling Clark Foundation, and the Doris Duke Foundation for Islamic Art, this public-private partnership is the largest public diplomacy effort to bring foreign artists to American stages in recent history. The Lied Center for Performing Arts is one of 10 U.S. presenters selected to participate in this program.