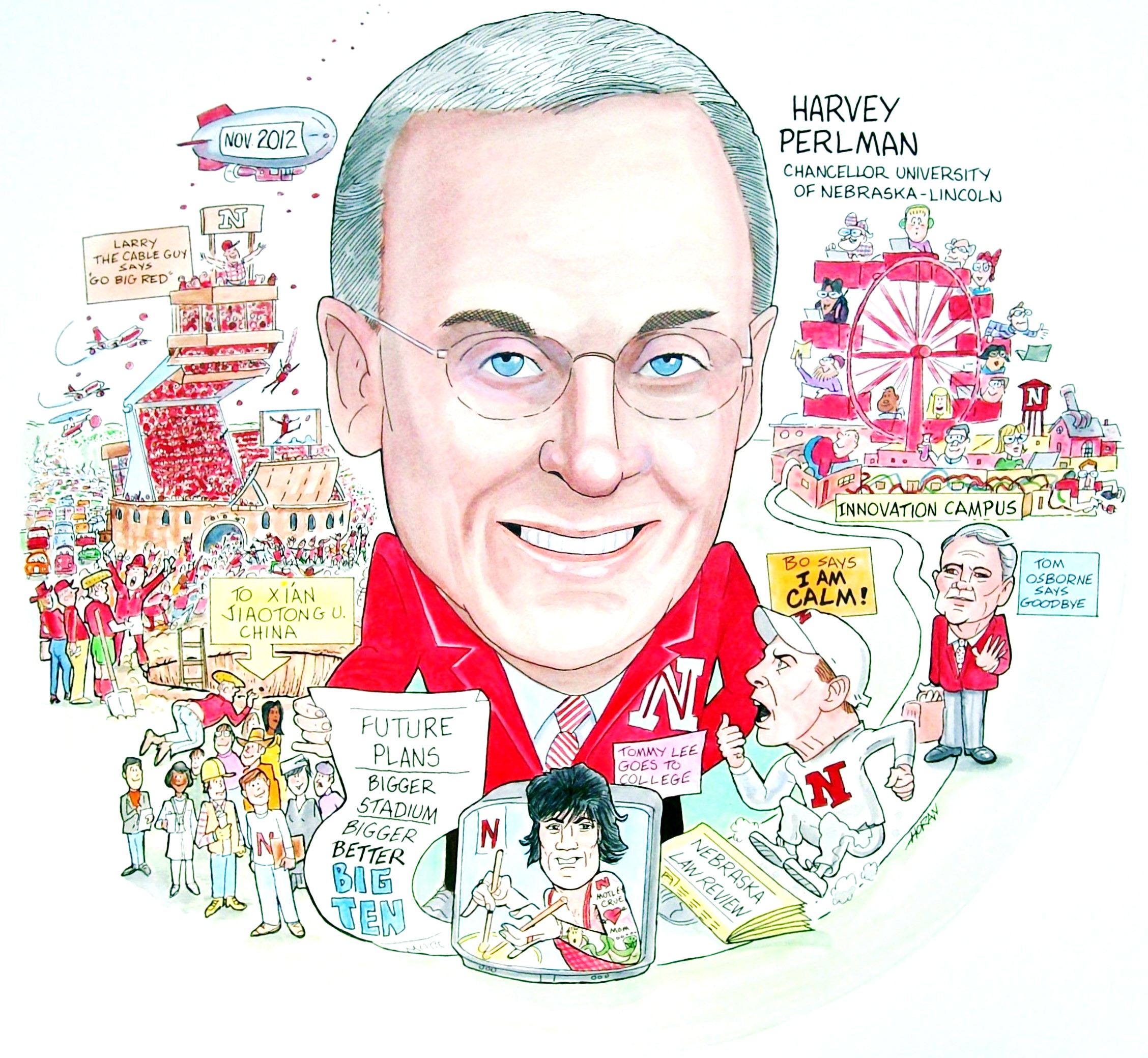 The Omaha Press Club honored Chancellor Harvey Perlman as the newest "Face on the Barroom Floor" during a Nov. 19 roast and dinner. The event was held at the Press Club, 1620 Dodge St., in Omaha.

Presented by the Omaha Press Club since 1971, the award honors newsmakers who have made an impact on the community.

The actual award is a caricature drawn by artist Jim Horan. The drawings are unveiled during a roast and toast of the award-winner. The caricatures are placed on the Omaha Press Club's floor to be walked on and admired until being framed and hung on a wall with other drawings of newsmakers.

The "Faces on the Barroom Floor" is an award unique among press clubs nationwide. The name is a reference to the poem of the same name by John Henry Titus. The poem is about a painting on a barroom floor in Central City, Colo.

In the drawing, Horan shows Perlman in a red blazer the chancellor wears to the Huskers' annual homecoming football game. Perlman is holding a list of future plans. Other campus elements in the drawing include Huskers football head coach Bo Pelini; Huskers legend and current athletics director Tom Osborne; the Nebraska Law Review; Nebraska Innovation Campus; students representing UNL's colleges; a reference to UNL's growing relationship with universities in China; and Memorial Stadium.

Individuals scheduled to participate in the roast included: Gary Sadlemyer, program director, KFAB-AM (1110) radio; J.B. Milliken, president, University of Nebraska; Susan Poser, dean, UNL College of Law; and Nebraska Sen. Ben Nelson.

Both Nelson (No. 60, June 1995) and Sadlemyer (No. 115, Feb. 2008) are past Face on the Barroom Floor honorees.

Perlman served as dean of the University of Nebraska College of Law (1983-1998) prior to being named chancellor in 2001.