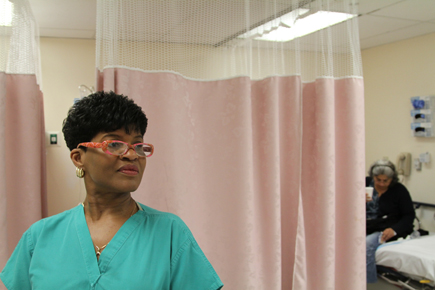 The health care documentary "The Waiting Room," which follows a day in the life of the patients and staff of a public hospital emergency room, opens today at the Mary Riepma Ross Media Arts Center. The comedy "Price Check" starring Parker Posey continues for a second week.

Both films are unrated and show through Dec. 20.

"The Waiting Room," a documentary by Peter Nick, is showing as part of a national theatrical release by International Film Circuit.

"The Waiting Room" showcases one 24-hour span at Highland Hospital in Oakland, Calif. The hospital has one of the busiest emergency rooms in the nation, with about 80,000 visits annually.

Focusing on a handful of characters — a young girl with a serious bout of strep throat; a carpet layer suffering from painful bone spurs; a man brought in after overdosing on a number of drugs; and an uninsured patient turned away from Kaiser Permanente on the day of his scheduled surgery to remove a tumor — the film traces the entire course of waiting for, and receiving care, at Highland.

In the documentary, these stories are juxtaposed with the struggle that doctors and nurses face every day in managing a limited number of beds and supplies while providing prompt care and coping with the complexity of the nation's public health care system.

"Price Check" is a smart and honest comedy that examines who we think we are and what we're willing to do for the life we think we deserve. Pete Cozy (Eric Mabius) has found himself a house in the suburbs and a job in the pricing department of a middling supermarket chain. Pete's job allows him to spend quality time with his wife and young son. And, despite the fact that they are drowning in debt, the family appears happy.

Everything changes when Pete gets a new boss — the beautiful, high-powered, fast-talking Susan Felders (Parker Posey).

With Susan's influence, Pete finds himself on the executive track — something that both surprises and excites him. The more his salary increases, the more he has to perform at work, and the less time he gets to spend with his family. At the same time, his relationship with his boss begins to cross the line of professional etiquette. Both become enamored with one another, creating tension in the workplace and in his personal home life.

For more information, including show times, go to http://www.theross.org or call 402-472-5353.