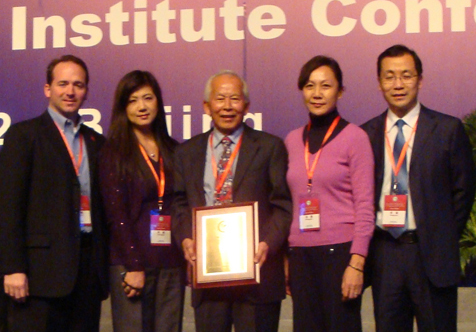 UNL's Confucius Institute was named Confucius Institute of the Year by the Confucius Institute Headquarters. The award was given to 24 Confucius Institutes during a recent three-day Confucius Institute Conference in Beijing.

The event was the 7th Confucius Institute Conference, with more than 2,200 delegates attending from more than 200 countries and regions over the world.

Twenty-four "Confucius Institutes of the Year" were named among nearly 400 Confucius Institutes in the world. David Lou, director of UNLCI, accepted the award on behalf of the Chancellor Harvey Perlman.

Rachel Zeng, Executive Associate Director of UNLCI, served as a panel member participating in the forum "Formulation of Development Plans for Confucius Institutes around the world." Bill Nunez, Associate to the Chancellor, UNLCI Chinese Director Pingan Huang and Susan Song from XJTU also attended the conference.

During this global conference, Director-General of Hanban and Chief Executive of the Confucius Institute Headquarters Xu Lin introduced three new programs and eight specific programs that will be implemented by Hanban/Confucius Institute Headquarters next year: "Confucius China Study Plan," "Confucius Institute Key Teaching Positions," and "Confucius Institute Day of Chinese Language." The Confucius Institute Headquarters will fully implement Confucius Institute's development plans, further strengthen the assessment of the quality of Confucius Institutes, improve faculty construction, put more emphasis on development of teaching materials, reform and innovate Chinese language test services, actively launch China-foreign cultural exchange activities, establish a digital platform for Confucius Institutes, and implement the "Confucius China Study Plan."

The Confucius Institute at the University of Nebraska-Lincoln was established five years ago as the 20th CI in the U.S. UNLCI has continuously placed the teaching of Chinese language and promoting Chinese culture as its top priorities. Thanks to the strong support from Hanban and the two universities involved, UNLCI's teaching staff has grown from two Hanban-sponsored teachers at the initial stage to the current 18 teachers including eight Hanban-sponsored teachers, four Hanban volunteers and six local part-time teachers. UNLCI also has a strong administrative staff including a host director, an executive associate director, a Chinese director, a program coordinator and an office associate. Its teaching programs cover three universities, more than 20 schools in five public school districts, a lifelong learning institute and a preschool children development laboratory with a total of 612 classes with almost 10,000 learners.

In 2012, UNLCI organized or sponsored 27 cultural activities. Through these activities, Nebraskans now have a deeper understanding and appreciation of the Chinese culture. UNLCI teaching programs include Chinese language classes, Chinese folk music classes, Chinese painting and calligraphy classes and Chinese cooking classes.