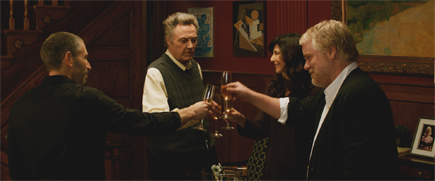 The documentary "Chasing Ice," which examines shrinking glaciers around the world; and the drama "A Late Quartet," starring Christopher Walken and Philip Seymour Hoffman, open today at the Ross. There will be a movie talk about "Chasing Ice" at 2:15 p.m. Jan. 13.

"Chasing Ice" is rated PG-13 and "A Late Quartet" is rated R. Both films show for one week.

Acclaimed National Geographic photographer James Balog was once a skeptic about climate change. But through his Extreme Ice Survey, he discovers undeniable evidence of our changing planet. In Chasing Ice, Balog deploys revolutionary time-lapse cameras to capture a multi-year record of the world's changing glaciers. His hauntingly beautiful videos compress years into seconds and capture ancient mountains of ice in motion as they disappear at a breathtaking rate.

Traveling with a team of young adventurers across the brutal Arctic, Balog risks his career and his well-being in pursuit of the biggest story facing humanity. As the debate polarizes America, and the intensity of natural disasters ramps up globally, Chasing Ice depicts a heroic photojournalist on a mission to deliver fragile hope to our carbon-powered planet.

A movie talk about Chasing Ice will take place at 2:15 p.m. Jan. 13, following the 1 p.m. screening of the film. Admission to the Movie Talk is free and open to the public. Admission for Chasing Ice is at regular Ross prices. The movie talk will feature guest speakers David M. Harwood, Michael Hootman, Robert Oglesby, and Joel Sartore.

Harwood is the Research Director of the ANDRILL Science Management Office, Professor of Geosciences and E.E. and T.M. Stout Professor of Stratigraphy at UNL. Michael Hootman is an active member with the Citizens Climate Lobby and American Mensa. Oglesby is a Professor of Climate Modeling at UNL with joint appointments in the Department of Earth and Atmospheric Sciences and the School of Natural Resources. Sartore is a photographer with over 20 years experience working for National Geographic, Time, Life, Newsweek and more. Sartore and his work have been the subject of several national broadcasts including National Geographic's Explorer, the NBC Nightly News, NPR's Weekend Edition and CBS Sunday Morning, as well as an hour-long PBS documentary.

"A Late Quartet," the first fiction film from director Yaron Zilberman, follows the lives of four longtime colleagues who play in a celebrated string quartet together. As the group begin their 25th season together, the eldest member (Christopher Walken) discovers he has the beginning stage of Parkinson's disease. Because he can't perform to the best of his abilities, he would like to bow out of the quartet without disbanding it.

However, a married couple within the group (Philip Seymour Hoffman and Catherine Keener) are on the brink of breaking up, and their rocky period isn't helped by the fact that the fourth member has begun an affair with their college-age daughter.

A Late Quartet screened at the 2012 Toronto International Film Festival.