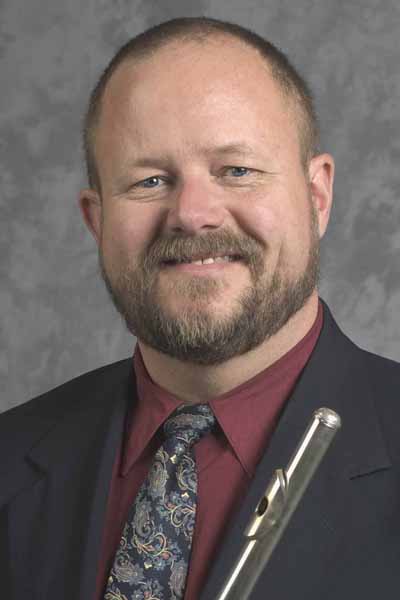 John Bailey, professor of flute, will be featured in a faculty recital 7:30 p.m. Jan. 24 in Kimball Recital Hall. The event is free and open to the public.

School of Music faculty Christopher Marks, harpsichord; Mark Clinton, piano; Diane Barger, clarinet; and Anthony Falcone, percussion will assist Bailey in the performance.

The program includes Sonata in B Minor, BWV 1030 by J.S. Bach, "Between Two Worlds (Five Images for Flute and Piano") by George Rochberg, "Ballade" by Albert Périlhou and "Itinerant (In Memory of Isamu Noguchi)" by Toru Takemitsu.

The concert will conclude with the world premiere performance of "Glacial Vistas" for flute, clarinet and percussion by Howard J. Buss. This piece was written specifically for Bailey by Buss, a Florida-based composer.

"Glacia Vistas" was inspired by Buss' visit to Glacier National Park in 2011.

"The three picturesque movements, 'Dawn,' 'On the Train' and 'In the Realm of Twin Falls,' capture the awe-inspiring grandeur and beauty of the rugged landscape," said Buss. "'Glacial Vistas' was composed during the winter of 2011-2012 and is dedicated to flutist John Bailey."

Bailey is Larson Professor of Flute and a member of the Moran Woodwind Quintet, resident faculty quintet at the UNL School of Music. He is principal flutist with the Lincoln Symphony, with whom he has appeared as concerto soloist on numerous occasions.

He received his undergraduate degree from Indiana University, where he studied with James Pellerite. Both his master's and doctorate were earned at Northwestern University, where he was assistant to Walfrid Kujala. He also studied at the Hochschule für Musik und darstellende Kunst in Vienna, Austria, with Louis Rivière, piccoloist of the Vienna Philharmonic. From 1982 to 1996, he was program annotator for the American Institute of Musical Studies in Graz, Austria, where he was also co-principal flutist with the festival's orchestra.