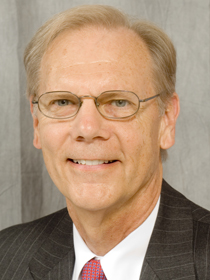 Don Wilhite, a climatologist at UNL, is helping United Nations agencies plan a global conference about growing drought policy concerns facing nations across the planet.

The "High-Level Meeting on National Drought Policy: Toward More Drought Resilient Societies" are March 11-15, in Geneva, Switzerland.

Wilhite, former director of UNL's School of Natural Resources, was the founding director of the National Drought Mitigation Center and will give the keynote address at the conference. Current NDMC director Michael Hayes, and Mark Svoboda, leader of the NDMC's monitoring program area, are also invited speakers.

The World Meteorological Organization, the Secretariat of the United Nations Convention to Combat Desertification and the Food and Agriculture Organization of the United Nations are among the organizations that recommend that countries should have drought policies.

Goals for national drought policies, listed on the meeting website, are:

— Proactive mitigation and planning measures, risk management, public outreach and resource stewardship as key elements of effective national drought policy.

— Greater collaboration to enhance the national/ regional/global observation networks and information delivery systems to improve public understanding of, and preparedness for, drought.

— Incorporation of comprehensive governmental and private insurance and financial strategies into drought preparedness plans.

— Recognition of a safety net of emergency relief based on sound stewardship of natural resources and self-help at diverse governance levels.

— Coordination of drought programs and response in an effective, efficient and customer-oriented manner.

For more information about the meeting, go to http://www.hmndp.org.

Additional background information is available at http://go.unl.edu/czz.