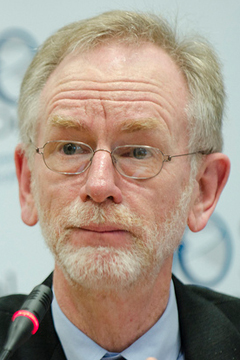 World Bank official Will Martin will deliver a lecture Jan. 25 in the Clayton Yeutter International Trade Program and Symposium.

Martin, research manager in agriculture and rural development for the bank's Development Research Group, will speak at 4 p.m. at the College of Law. The lecture is free and open to the public and is the first in the program's series of spring semester talks by leading scholars in the area of trade law, trade negotiation, trade policy and environmental issues.

The program is designed to train a select group of 13 graduate students from the disciplines of economics, agriculture and law in international trade policies, law and practice. Over the course of two semesters students will participate in seminars presented by six visiting scholars.

Martin has published extensively on agricultural trade policy and developing countries, with a particular focus on the World Trade Organization and economic development. He has published widely using quantitative models such as the Global Trade Analysis Project, and has a particular interest in using detailed data to build up a complete picture of the effects of policies on welfare impacts at national and household levels.

The program is named for Clayton Yeutter, a native of Eustis who earned three degrees at the University of Nebraska and has a distinguished career in international trade, serving as U.S. trade representative from 1985 to 1988 followed by three years as U.S. secretary of agriculture. He later helped launch the most ambitious trade negotiation in history, the 100-nation Uruguay Round, which culminated in the creation of the World Trade Organization in 1995.

This project is funded by the Department of Commerce, International Trade Administration.