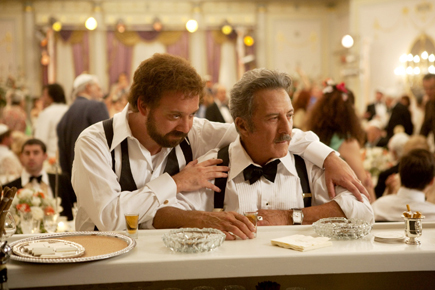 The films "Barney's Version" and "Biutiful" open Feb. 18 at the Mary Riepma Ross Media Arts Center. "Barney's Version" stars Paul Giamatti in an adaptation of the novel by Mordecai Richler. "Biutiful" is a Best Foreign Language Film selection for the 2011 Academy Awards.

Based on the award-winning novel, "Barney's Version" is the warm, wise and witty story of the politically incorrect life of Barney Panofsky (Paul Giamatti), who meets the love of his life (Rosamund Pike) at his wedding - and she is not the bride. A candid confessional told from Barney's point of view, the film spans three decades and two continents, taking us through the different acts of his unusual history. Also stars Dustin Hoffman, Minnie Driver and Rosamund Pike.

In "Biutiful," Academy Award winner Javier Bardem plays a man on the wrong side of the law who struggles to provide for his children on the dangerous streets of Barcelona. Directed by Academy Award nominee Alejandro Gonzalez Inarritu ("Babel," "Amores Perros"), "Biutiful" won the award for Best Actor at the 2010 Cannes Film Festival and is sure to be on the of the most talked-about films of the year.

Both films will show at the Ross from Feb. 18 to March 3.

For more information, including showtimes and ticket prices, go to http://www.theross.org or call (402) 472-5353.
More details at: www.theross.org