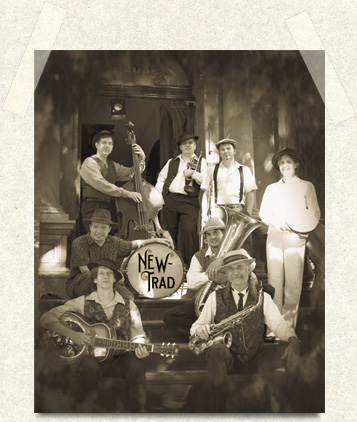 Jeff Newell's New-Trad Octet: June 22, 7 p.m. Combining the instrumentation of a New Orleans marching band and an electric R&B group, this freewheeling ensemble has brought its infectious rhythm and joyful humor to enthralled audiences from the Atlantic to the Rockies. The ensemble lives up to its name, infusing Americana, soul jazz and R&B with an avant-garde sense of anything goes.

Saxophonist and bandleader Jeff Newell was born in Kansas City and raised in rural Nebraska. He graduated from the UNL School of Music in the mid-1970s and has performed in Chicago and New York jazz scenes for decades. In addition to his performance schedule, Newell is a faculty member at the Brooklyn School of Music.

In time for Mardi Gras in 1994, Newell formed the New-Trad Octet, incorporating the spontaneity of modern jazz improvisations with turn-of-the-19th-century hymns and marches. Musicians playing with the octet include: Victor Garcia, trumpet; Ryan Shultz, bass trumpet; Mike Hogg, tuba; Neal Alger, guitar; Steve Million, keyboard; Tim Fox, bass; and Rick Vitek, drums. The New-Trad Octet, which has played at clubs and festivals throughout the country, released its successful CD "Brownstone" in 2007. For more information, visit http://www.new-trad.com.

Now in its 19th season, the Jazz in June concert series presents five Tuesday evenings of great jazz in the great outdoors on the University of Nebraska-Lincoln campus.

Organized by the Sheldon Art Association and the Berman Music Foundation, this year's free jazz series presented by Baylor Evnen kicked off June 1 with the Darryl White Group with guest artist Dick Oatts.

The concerts begin at 7 p.m. and draw thousands under the trees on the plaza west of Sheldon Museum of Art.

Concertgoers should bring blankets or lawn chairs for a relaxing and enjoyable evening surrounded by the rhythms of jazz, intriguing outdoor sculpture and, with luck, harmonious summer skies. Jazz in June performances are free to all, but concertgoers are asked to make a minimum donation of $10 per family to continue the series.

Pets are no longer be allowed at concerts. Jazz in June organizers ask that concert goers leave their four-legged friends at home unless it is a service animal.

The Jazz in June series receives generous support from its sponsors. They are: Baylor Evnen, Berman Music Foundation, KFOR, Firespring, Lincoln Journal Star, University Program Council, Daily Nebraskan, Downtown Lincoln Association, Union Bank & Trust, Scheels, Dietze Music, the UNL School of Music and Yamaha.

Jazz in June will go green again this year to stress the benefits of an increased environmental consciousness. By reducing the sale of plastic bottles at this year's concerts and more intense recycling waste effort, Jazz in June organizers hope to set a green example for public gatherings in Nebraska.

Before each concert visitors are invited to take a tour of the gardens on the UNL campus. The free tours start at 6 p.m. on the east side of Sheldon. Amy Alderman, Landscape Supervisor, Landscape Services will give a tour of Love Garden, the large perennial display gardens at the entrance to City Campus. She will discuss plants that are in bloom at this time as well as perennial care and maintenance. The tour will begin on the east side of the Sheldon Museum of Art.

For youngsters, the Super Sleuth hunts in and around the museum return. In conjunction with the performances, the Jazz in June Market is the ideal place to select dinner or do midweek shopping. Dinner items, fresh produce, baked goods, ice cream from the UNL Dairy Store and many more delights are available for purchase. The market opens at 5 p.m. on 12th and R Streets and is organized by the Downtown Lincoln Association, the City of Lincoln, and UNL.

For more information, visit http://www.jazzinjune.com.
More details at: www.jazzinjune.com