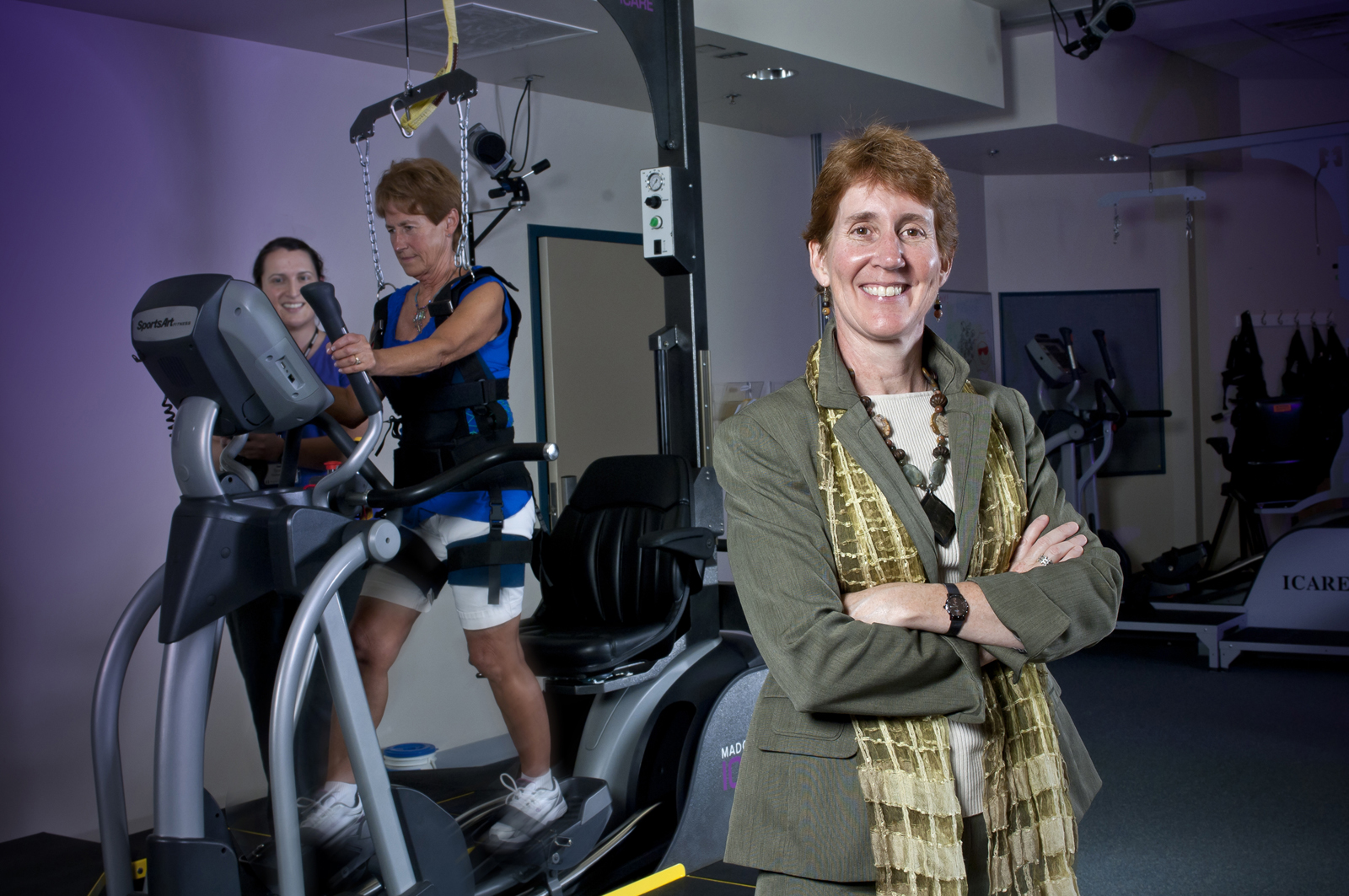 Judith Burnfield has been named director of the Nebraska Athletics Performance Lab. She holds a doctorate in biokinesilogy from the University of Southern California.

The Athletics Performance Lab will be housed in East Stadium following the summer 2013 completion of the Memorial Stadium expansion. The lab will include approximately 20,000 square feet of dedicated research space on the north half of the East Stadium addition. The lab is being designed to allow Nebraska Athletics to team with private sector and campus partners on innovative health and performance research.

Burnfield begins her new position in July and will bring a wide range of professional and research expertise to the athletics department.

Burnfield currently is director of the Institute for Rehabilitation Science and Engineering at Madonna Rehabilitation Hospital in Lincoln. She will continue to serve in that role, while also taking on her new role as head of the Nebraska Athletic Performance Lab.

The dual leadership role should be of benefit to both organizations, Burnfield said.

"The capacity to draw together the multidisciplinary strengths of both organizations to address human performance and safety issues of athletes at UNL and individuals with physical disabilities at Madonna Rehabilitation Hospital is exceptional," Burnfield said. "I am truly looking forward to bridging both environments to advance clinical, research and industry driven initiatives rapidly.

"We already have shared collaborators across the two environments and I'm excited to be a part of the Athletic Department and work closely with the individuals involved in the Performance Lab, as well as my colleagues at Madonna to ensure we leverage our collective resources and expertise to improve the performance, safety and well-being of those we serve."

Burnfield has served in various capacities at Madonna since 2004, and has held her current position at the rehabilitation hospital since 2007. Burnfield previously held a position as a research physical therapist at the Pathokinesiology Laboratory in Downey, Calif., from 1996 to 2003.

Burnfield serves as an adjunct professor at several universities including UNL, the University of Nebraska Medical Center and Creighton University. She has also served in teaching roles at the university level, including posts at the University of Southern California and Mount St. Mary's College in Los Angeles.

Burnfield graduated Cum Laude with a bachelor's of science degree from the State University of New York in Buffalo in 1986. She earned her Ph.D. in biokinesiology from USC in 2003. She is a registered physical therapist and a certified kinesiologic electromyographer.

Burnfield will play a key part in bringing to life the collaboration between athletics and research. The Nebraska Athletic Performance Lab will sit side-by-side and work in concert with the recently approved Center for Brain, Biology and Behavior (CB3) as an interdisciplinary research center at UNL.

CB3 will be housed in the other half of the research area in East Stadium and will house a state-of-the-art functional magnetic resonance imaging magnet, which will enable faculty and students from a wide spectrum of disciplines to conduct research related to behavior and performance, including the study of concussions.

Dennis Molfese, professor of psychology and director of the UNL neuroimaging center, will head up the Center for Brain, Biology and Behavior.