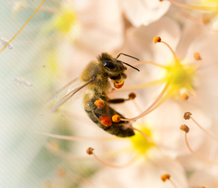 The Bayer Bee Care Tour will stop at UNL's Agricultural Research and Development Center near Mead on April 1. The tour is part of Bayer's effort to foster education and collaboration among growers, beekeepers, researchers and others interested in honey bee health.

The traveling exhibition includes hands-on exhibits, stewardship seminars and expert presentations. The presentations will include UNL's Marion Ellis, professor of entomology, discussing concurrent blooming plants visited by honey bees.

The event is 10 a.m. to noon. Lunch is provided. Register by sending email to Catharine.Montgomery@porternovelli.com or by calling 404-995-4521.

For more information go to https://connect.bayercropscience.us/.