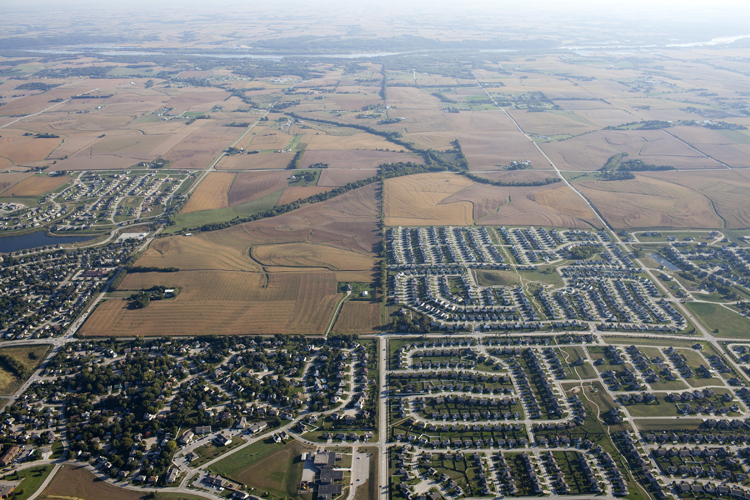 The College of Architecture at the University of Nebraska-Lincoln will present a new exhibition, "Shifting Thresholds," April 11-18, with an opening reception from 5:30 to 7:30 p.m. on April 11.

Visitors will view the first phase of work on "Shifting Thresholds," a unique undertaking investigating the relationships among people, land, history, ownership, agriculture and development at the suburban/rural edge between Omaha and Sarpy County.

Sarpy County has faced rapid suburbanization, yet it remains 60 percent agricultural, containing some of the state's richest soils, river floodplain ecologies and a unique mixture of agricultural heritage. It is also a key piece of the I-80 corridor connecting Omaha to Lincoln. These factors make it critical in shaping the future of the Omaha metro area.

Project creator Emerging Terrain, a nonprofit research and design collaborative based in Omaha, has conducted historical and analytical ownership mapping of Sarpy County from pre-settlement to present, aerial photography of all 253 sections of the grid, driving interviews with over 50 suburban residents, farmers, and the development community, and a categorical timeline of generational responses to changing tax code, agricultural innovations and familial circumstances.

"The landscapes at the edges of Great Plains cities are among the most dynamic, as development and agriculture co-exist in a continually changing patchwork of ownership and use," said Anne Trumble, founder and chief creative officer of Emerging Terrain. "In addition to dictating a city's growth patterns, they are also plentiful in resources. Often comprising rich soils, natural corridors connecting the city to outlying recreational landscapes, important logistical networks connecting one city to another, these landscapes represent future urban form."

In conjunction with the exhibition, the College of Architecture will host a lecture by Trumble at the Mary Riepma Ross Media Arts Center 313 N. 13th St., Lincoln, NE. at 4:30 p.m. April 11.
The exhibition runs through April 18 and is open to public viewing 9 a.m.-5 p.m., Monday-Friday, at the College of Architecture, 10th and R streets.

All events are free and open to the public.
More details at: http://go.unl.edu/gtg