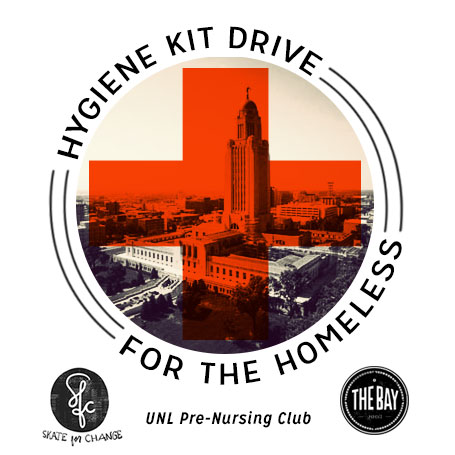 The Pre-Nursing Club has partnered with Skate for Change to collect donations that will be used to create hygiene packs for the local homeless population. The club is accepting donations at a booth in the Nebraska Union, 11 a.m. to 3 p.m. through April 19.

Items needed for the kits include: toothbrush, toothpaste, hand sanitizer, hand wipes, hand soap, adhesive bandages, lotion and antibacterial creams.

Skate for Change is a group of local skateboarders that goes downtown weekly to distribute food, hygiene kits and spend time with homeless individuals. The group aims to make a connection with the homeless. For more information, go to http://vimeo.com/32369191.

According to Lincoln and Lancaster County Homeless Coalition, there were 981 people reported as homeless in Lincoln as of 2012, with a breakdown of 671 as adults and 310 as youth. Those figures do not include individuals who are in transitional or sheltering programs.

The club's goal is to create 981 kids for the homeless.

For more information about the project, go to http://go.unl.edu/pt5.