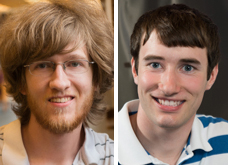 UNL students Daniel Jay Geschwender and Steve Parkison have been named Goldwater Scholars for outstanding research in science. A third student, Ashley Thelen, has also earned a Goldwater Honorable Mention.

Goldwater scholarships are for aspiring scientists, mathematicians and engineers. About 300 college sophomores and juniors receive them nationwide, with awards up to $7,500 a year for educational expenses.

Geschwender is a junior computer science major. He works with Berthe Choueiry, associate professor of computer science and engineering, and has participated in several computer-programming competitions. Geschwender also has taken a summer internship position at Smart Information Flow Technologies, a research and development consulting company specializing in human factors and artificial intelligence.

Parkison is a junior electrical engineering major. He has worked with Lance Perez, professor of electrical engineering and associate vice chancellor for academic affairs, for two years in the Mobile Communication and Coding Lab. Parkison is also the vice-president of the Institute of Electrical and Electronics Engineers student chapter. He has also participated in an engineering study abroad trip to Italy led by Ece Erdogmus, associate professor of architectural engineering, and had an internship at Johnson Space Center working on systems for crewed space crafts.

Parkison hopes to earn a doctorate and conduct research in robotic perception and computer vision in either academia or private industry.

"I plan to go on to graduate school and winning the scholarship reassures me that the decisions I have made through college have been mostly correct," he said.

Geschwender also plans to continue research, someday working professionally in either an academic or industrial setting. He said winning the Goldwater has marked an important milestone in his research career.

"I am very proud of all the time and effort I've put into my research and having it recognized with a prestigious award only increases this," Geschwender said.

Thelen is a junior biochemistry major. She earned the Goldwater Honorable Mention for research conducted with Melanie Simpson and Joe Barycki, both associate professors of biochemistry.