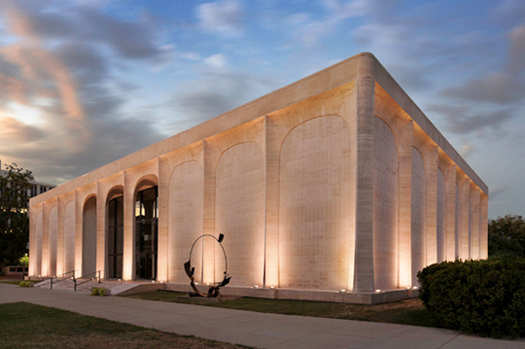 To celebrate its 50th anniversary, the Sheldon Museum of Art is being transformed into "The Naked Museum."

For the months of May and June, Sheldon's collection of 12,000 objects will be placed in storage to focus on its greatest artwork: the museum's landmark Philip Johnson–designed building.

Visitors to the Naked Museum will experience Sheldon through a variety of activities and performances, including architectural tours, craft circles, dance, music, poetry, theater and yoga. All events are free and open to the public unless otherwise noted. A complete schedule of events is available on the Sheldon website, http://www.sheldonartmuseum.org.

The Sheldon Art Association, the museum's support organization, also is celebrating a milestone this year.

The group, which began in 1888 as the Haydon Art Club, commemorates its 125th anniversary at 7 p.m. June 1 with The Naked Museum Party, a fundraiser for art education and exhibitions. Tickets are available at sheldonartmuseum.org/tickets or by contacting the museum at 402-472-1454.

The Naked Museum opens to the public on May 3 with a First Friday reception from 5 to 7 p.m. The event features performances by UNL music students and an ice cream flavor created for the anniversary by the UNL Dairy Store.

Other events include:

> Self-paced tours, May 3 to June 30: Explore the museum's architectural details with guidebooks created by students in the College of Architecture.

> Craft circle, 1:30-2:30 p.m. Sundays, May 5-26 and June 9-30; and noon-1 p.m. Thursdays, May 9-30 and June 6-27: Bring a craft project and work in the company of other creative people. Various dry media including beading, crochet, jewelry, knitting, needlework, paper crafts and rug hooking are welcome; paint and other wet media are not permitted. Supplies are not provided.

> "A Very Deep Saxophone and a Very Long Guitar," 7 p.m. May 7: An experimental music and video performance in one of Sheldon's galleries by UNL associate professors Damon Lee and Jeff Thompson using a room-sized instrument.

> Young Musician Lunchtime Concert Series, 12:15 p.m. Wednesdays, May 8-29 and June 5-26.

> Meditation led by Yoga Body and Balance, 6-7 p.m. May 9: For ages 16 and older.

> NET Radio's "Friday Live Arts Magazine" with William Stibor, 8:45-10 a.m.: Live broadcast from Ethel S. Abbott Auditorium with Robert A. M. Stern, Hilary Lewis and live musical performances.

> A Conversation about Philip Johnson, 5:30 p.m. May 10: Robert A. M. Stern, Dean of the Yale School of Architecture and architect of UNL's International Quilt Study Center and Museum and the soon-to-be-constructed College of Business Administration, and Hilary Lewis, architectural historian and author, discuss Philip Johnson, architect of the Sheldon Museum of Art.

> "Troika Strata: One Play, Three Views," 6:30 p.m. May 14, 21, 28: Perspective and intrigue collide as Angels Theatre Company presents one story three different ways in three different spaces. $10 admission.

> 125th annual meeting of Sheldon Art Association, 6-8 p.m. May 16: Commemorating the 50th anniversary of the May 16, 1963, dedication of Sheldon's building.

> Outdoor yoga led by Yoga Body and Balance, 6-7 p.m. May 16, 23, Weather permitting in the sculpture garden. For ages 16 and older.

> Museum tour with Bitzalel Friedemann, 7-8 p.m. May 17: New York performance artist Charley Friedman, a Lincoln native, offers a guided tour of the Sheldon building as alter ego Bitzalel Friedemann.

> The Figure, weekdays, 10 a.m.-12:30 p.m. May 20-June 7: Observe UNL professor Santiago Cal and his class as they create sculpture for the touch inspired by works from the museum's collection.

> Kinection: Connecting Modern Art with Modern Technology, various dates and times, May 21-June 30: Interact with a wall-sized electronic canvas designed by UNL assistant professor Anita Sarma and students in the Department of Computer Science and Engineering.

> Paul Barnes piano recital, 7:30 p.m. May 23: UNL School of Music professor Paul Barnes performs a retrospective of minimalist compositions by Philip Glass.

> "Temporal Sculpture," 7 p.m., May 24-25: An evening of choreography by OmniArts nebraska celebrating the beauty of the human form in motion. $10 admission ($8 students, seniors). Open rehearsal, 2-4:30 p.m. May 18.

> Museum tour with Betsey Geffen, 2-3 p.m. May 25: New York–based performance artist Charley Friedman, a Lincoln native, offers a special guided tour of the Sheldon building as alter ego Betsey Geffen.

> Descriptive poetry workshop, 10 a.m.-1 p.m. May 28: Led by poets Ben Clark, Stevie Edwards, and Josh Gaines in the museum's galleries.For ages 13 and older.

> Sunset Yoga led by Yoga Body and Balance, May 30, 8-9 p.m.: In Sheldon's Great Hall. For ages 16 and older.

> The Naked Museum Party, 7 p.m. June 1: Featuring gallery settings inspired by art in the Sheldon collection, live music, small plates, and anniversary cocktails. $200 per person in support of exhibitions and art education. For tickets, visit sheldonartmuseum.org/tickets or contact Jennifer Cantrell at 402-472-1454 or jcantrell2@unl.edu.

> Jazz in June Concert Series, Tuesdays, June 4-25; market 5 p.m., concert 7 p.m.: Featuring Kendra Shank, Valerie Capers, Angela Hagenbach and Jackie Allen.

> First Friday reception, 5-7 p.m. June 7: Opening of the Marketplace of Community Values, a presentation of community life by twelve Nebraska social-service organizations collaborating with six artists.

> Family Day, 1-4 p.m. June 9: Family-friendly art and architecture activities.

> Say Something: The Lincoln Dialogue Project, 1-3 p.m. June 15: A workshop, led by Shela Shanks, to connect communities and build a culture of peace through conversation. Preregistration is required, and space is limited. Contact lincolndialogueproject@gmail.com or 402-475-4620 to participate.
More details at: http://www.sheldonartmuseum.org