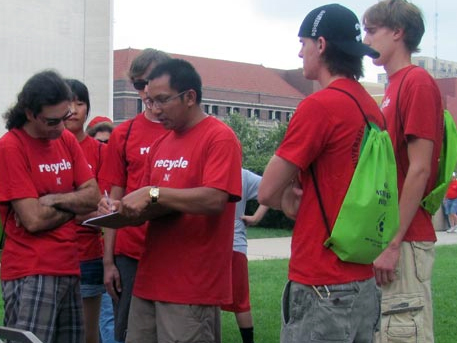 For the first time in UNL's 144-year history, the university has recorded a recycling rate greater than 50 percent.

According to recycling coordinators Prabhakar Shrestha and Jeff Henson, UNL achieved a 51 percent recycling rate in 2012. The total is a 10 percent increase from the 2011 recycling rate.

Overall, the campus recycling rate has show steady improvement since a low of 12 percent in 2003.

"I am very pleased that the campus is continuing to improve its recycling rate," Chancellor Harvey Perlman said. "We owe this to our future generations. In the end, our success depends on each member of the university community taking this seriously. I applaud the growing numbers of you who seem to be doing so."

Shrestha and Henson said many members of the UNL community made contributions that resulted in the 50 percent recycling rate. Those efforts include:

— Husker athletics facilitating stadium recycling for home Husker football games;

— Student groups volunteering for campus recycling programs like "Go Green for Big Red;"

— Coordination of recycling programs within campus buildings by UNL's building maintenance reporters;

— Environmental Health and Safety's recycling programs for electronic waste, batteries, light bulbs and motor oil.

Materials recycled by UNL include paper, cardboard, metals, plastics, printer cartridges, shipping pallets and cooking oil. For a complete list, go to http://recycling.unl.edu/home#materials.

UNL recycling efforts have also increased through participation in RecycleMania, a competition between institutions of higher education in the United States and Canada. In the recently completed eight-week, 2013 contest, UNL recycled more than 294,000 pounds of paper, cardboard and plastic.

The total was the most UNL has recycled in its four years participating in the RecycleMania competition.

For more information on UNL's recycling program, go to http://www.recycling.unl.edu or call Shrestha and Henson at 402-472-9139.