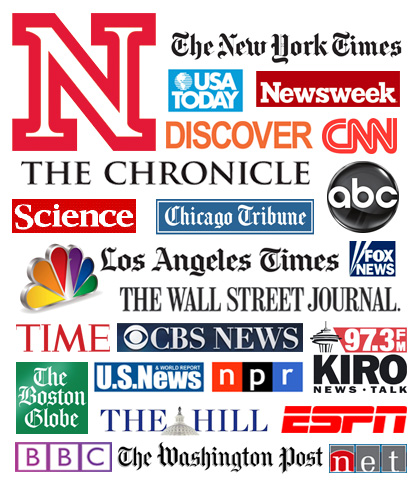 National media outlets featured and cited UNL sources on a number of topics in the past month. Appearances included:

Humberto Blanco, soil physics, had his study into the balance between increase yields and soil stability when fertilizing with inorganic nitrogen and phosphorus featured in Southwest Farm Press on April 29.
http://go.unl.edu/8vh

Brian Cole and Sarah Gervais, psychology; and Meghan Davidson, educational psychology, had their research into body surveillance and body shame in college men featured April 29 in the Huffington Post.
http://go.unl.edu/qiw

Wheeler Winston Dixon, film studies, was quoted in the Chicago Reader on April 9 about female-directed films of the 1950s. Also on April 9, he was quoted by the Los Angeles Times on Michael Lynton's contract renewal and what it means for Sony Pictures.
http://go.unl.edu/uv2
http://go.unl.edu/a5s

Yuris Dzenis, mechanical and materials engineering, had his team's discovery of super-strong and tough structural nanofibers featured in a number of media outlets in late April. Coverage included stories in Yahoo! News, LiveScience, Fox News, NSF Science 360, Escapist Magazine, Geekosystem, Mother Nature News and several other outlets around the globe.
http://go.unl.edu/fgj
http://go.unl.edu/39z
http://go.unl.edu/phu
http://go.unl.edu/7zu

Peter Harms, management, was quoted in an April 17 story in Inc. Magazine about his research into imagining ideal co-workers and how it translates into finding extraordinary employees.
http://go.unl.edu/ssw

Media outlets around the nation and world reacted April 6 to 7-year-old cancer patient Jack Hoffman's 69-yard touchdown run in the annual Red-White Spring Game. In the first three days alone, more than 600 broadcast media outlets carried the story to an estimated 54.1 million people. Jack, his family, and student-athlete Rex Burkhead appeared in hundreds of media outlets, including Sports Illustrated, CNN, ESPN, ABC World News Tonight and the Associated Press.
http://go.unl.edu/j9t
http://go.unl.edu/f0t
http://go.unl.edu/6zt
http://go.unl.edu/2zf

An $8 million gift to the International Quilt Study Center and Museum received broad coverage on April 25, including from the Associated Press.
http://go.unl.edu/pxf

Andrew Jewell, UNL Libraries and English, appeared in numerous media outlets throughout the month of April in recognition of the new book "The Selected Letters of Willa Cather," which he co-edited. Coverage in April included the New York Daily News, the New Yorker, the New York Times Review of Books, and Morning Edition with NPR's Steve Inskeep.
http://go.unl.edu/50j
http://go.unl.edu/obg
http://go.unl.edu/t3a
http://go.unl.edu/yww
http://go.unl.edu/pdd

A $600,000 gift to the Johnny Carson Theater at the Lied Center for Performing Arts received wide coverage in late April, including a national story from the Associated Press.
http://go.unl.edu/0mi

David Moshman, educational psychology, wrote an April 3 column in the Huffington Post about the return of State Sen. Ernie Chambers of Omaha to the Nebraska Legislature.
http://go.unl.edu/sem

Climatologists at the National Drought Mitigation Center were tapped in mid-April to discuss the effect of recent rains on U.S. drought. On April 18, the fact that the U.S. Drought Monitor found drought in less than 50 percent of the continental United States made national news.
http://go.unl.edu/xme

Timothy Schaffert, English, had his new novel "Lady of the Burlesque Ballet" reviewed in April by the Chicago Tribune.
http://go.unl.edu/fap

Susan Swearer, school psychology, was quoted in an April 3 story in Slate about bullying and sports, as it related to the case of Rutgers basketball coach Mike Rice.
http://go.unl.edu/o0r

Matt Waite, journalism, was quoted in an April 29 Wichita Eagle story about the rise of uses for unmanned aerial vehicles.
http://go.unl.edu/bt8

This is a monthly column featuring UNL faculty, administrators and staff in the national news. National media often work with University Communications to identify and connect with UNL sources for the purpose of including the university's research, expertise and programming in published or broadcasted work. 



Faculty, administration, student and staff appearances in the national media are logged at http://newsroom.unl.edu/inthenews/



If you have additions to this list or suggestions for national news stories, contact Steve Smith at ssmith13@unl.edu or 402-472-4226.
More details at: http://go.unl.edu/8t9