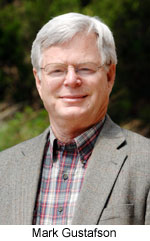 Mark Gustafson has been named the founding director of the Engler Agribusiness Entrepreneurship Program and the Paul Engler Chair of Agribusiness Entrepreneurship at the University of Nebraska-Lincoln's Institute of Agriculture and Natural Resources.

"It really is an honor to head up the Engler Agribusiness Entrepreneurship Program. I am so grateful to Paul Engler and his foundation for providing this opportunity to the people of Nebraska," said Gustafson, who has been the coordinator of rural economic and business development with the University of Nebraska Rural Initiative for three years.

Earlier this year, the Paul F. and Virginia J. Engler Foundation gave $20 million to fund the program. Paul Engler, a NU alumnus and Texas cattleman, said he hoped his gift would help identify students with the entrepreneurial drive and then teach them the skills necessary to succeed.

"This opportunity from the Engler Foundation to the state of Nebraska is a wonderful gift, especially with its focus in agribusiness because of the importance of agriculture to the state's economy. Focusing on agriculture and business allows students to pursue their interest in entrepreneurship in an area that is very important for the state," Gustafson said.

John Owens, Harlan vice chancellor of the Institute of Agriculture and Natural Resources, appointed Gustafson to the position.

"John appointed Mark to work across the three missions of teaching, research and extension education," said Steve Waller, dean of the College of Agricultural Sciences and Natural Resources.

Gustafson will work full time as founding director for two years, during which time a national search will be held for a permanent director. Gustafson will be eligible in this search.

"Mark is passionate about community and rural development. He knows that entrepreneurship is one of the key elements of helping young people be financially successful in smaller and rural communities," said Elbert Dickey, dean and director of UNL Extension.

For many years, rural economic development has focused on attracting outside businesses, but this is a high-risk strategy because thousands of communities are competing for very few companies searching for a new location, Gustafson said.

"Greater success will come from encouraging individuals to develop and grow entrepreneurial businesses within their communities. The Engler Program does that by giving students the skills and experience they will need to succeed in agribusiness in Nebraska. That's not only going to benefit those students, but also the community and the state as a whole," Gustafson said.

For now, Gustafson said he is focusing on the immediate future to begin developing the best program possible. Engler scholars will be on campus in the fall of 2010. Gustafson said quality is more important than quantity, but he hopes to have at least five scholars in the initial group. Gustafson is currently working to identify the student scholars, create the curriculum and develop out-of-classroom activities, including an international experience, internships and a mentor program with agribusiness entrepreneurs.

Gustafson received his bachelor's and master's degrees from the University of Nebraska and a doctorate in agricultural and natural resource economics from the University of California-Berkeley. Among many appointments, Gustafson has worked with the University of Rhode Island as a marketing consultant in Brazil, served as state president of Agriculture Builders of Nebraska and been recognized as an honoree of the Nebraska Agricultural Hall of Achievement.

Gustafson is a fifth-generation Nebraska farmer and still farms in the evenings and on weekends.
More details at: http://go.unl.edu/ttt