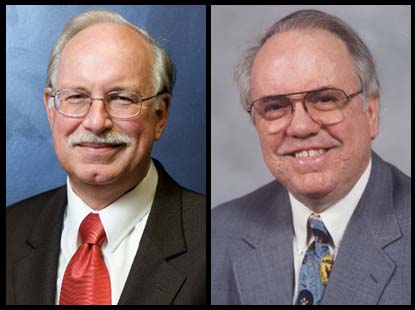 UNL professors Stephen Baenziger and Stephen Taylor were selected among the 2011 winners of the University of Nebraska's most prestigious awards for research, teaching and engagement.

The university-wide awards recognize faculty whose work has made a strong impact on students, the university and the state. Award recipients are selected by committees of outstanding peers.

"The strength of any university depends on its faculty, and the four campuses of the University of Nebraska are home to some of the country's best," said NU President James. B. Milliken. "The efforts of our faculty in teaching, research and engagement improve the student experience, advance the university and make a positive impact on the state of Nebraska and its people. It's important that we take this opportunity each year to recognize some of the most outstanding work of our faculty."

The awards will be presented during a luncheon later in the spring. The UNL winners will be featured in upcoming issues of the Scarlet.

Baenziger, Eugene Price Distinguished Professor in the Department of Agronomy and Horticulture, was honored with the Outstanding Research and Creative Activity award. The ORCA recognizes individual faculty members for outstanding research or creative activity of national or international significance.

Taylor, professor of food science and technology, earned the Innovation, Development and Engagement Award. The IDEA recognizes faculty members who have extended their academic expertise beyond the boundaries of the university in ways that have enriched the broader community.

In 25 years at UNL, Baenziger has developed an international reputation as a wheat breeder whose research is helping to feed more people and improve lives in Nebraska and around the world. Baenziger is the only American serving on the board of trustees for the International Rice Research Institute, and has consulted with numerous international groups and universities to help foster modern agricultural research. Recently, UNL announced that Baenziger is the first to hold the new Nebraska Wheat Growers Presidential Chair, an endowed professorship created through a licensing agreement between NUtech Ventures and Bayer CropScience. The licensing agreement also includes plans for Bayer CropScience to establish its first North American wheat breeding station near Lincoln - a reflection of the strength of UNL's wheat research program.

In his 35 years of research in food safety and toxicology, Taylor has become an international authority in the areas of sulfite sensitivity and food allergies. He has published more than 250 manuscripts on these topics, and has worked extensively with the food industry, regulatory agencies, clinicians and allergic consumers. In 1996 Taylor organized a highly successful food industry-funded consortium, the Food Allergy Research and Resource Program, at UNL. The consortium provides confidential food allergen analysis to the food industry and conducts research, outreach and distance education. Originally founded with seven companies, the consortium now includes more than 50 companies; it is North America's largest food allergy testing laboratory. Under Taylor's leadership, the consortium has been recognized numerous times for its timely work related to the food allergy field.

Other recipients of the university-wide honors are:

ORCA

- Gert-Jan de Vreede, managing director of the Center for Collaboration Science and Frederic W. Kayser Distinguished Professor in the Department of Information Systems and Quantitative Analysis, University of Nebraska at Omaha, is a highly productive and widely published researcher. His work has significantly advanced the scientific areas of group support systems and collaboration engineering. Recently, he was named the most productive group support systems researcher in the world from 2000 to 2005 in a comprehensive research profiling study. In 2010, de Vreede received UNO's Award for Distinguished Research and Creative Activity, the highest recognition for researchers at UNO. He also serves as a mentor to many of his colleagues and students, and has initiated a number of collaborative projects across the university. In particular, de Vreede was instrumental in establishing UNO's Center for Collaboration Science. Under his leadership, the center has secured nearly $5 million in grants and contracts and has been active in supporting many instructional and outreach activities.

Outstanding Teaching and Instructional Creativity Award (OTICA) - This award recognizes individual faculty members who have demonstrated meritorious and sustained records of excellence and creativity in teaching.

- Kurtis Cornish, professor in the Department of Cellular and Integrative Physiology, University of Nebraska Medical Center, is perhaps the ultimate educator. In teaching students how to place nasogastric tubes - an essential skill - Cornish allows them to place a tube in his own nose, despite the discomfort of the process. He is also an innovator who created the "J-term" at UNMC, an intense, three-day June workshop where medical students learn key diagnostic and treatment skills they need to transition from medical school to the clinical years. Further, where students historically learned principles of cardiovascular physiology by using a live dog, Cornish computerized this "dog lab" so students can use a simulated model instead - a method that has been adopted by educators around the world. Cornish has developed an outstanding reputation among medical students, who have awarded him the Golden Apple Award for teaching six times.

- Jonna Holland, associate professor of marketing, UNO, is said to demonstrate what it means to "place students first." In 2009, Holland received the UNO Excellence in Teaching Award, the highest teaching award available on campus, and was successfully nominated by her students to be inducted into the Omicron Delta Kappa Honor Society. For the past decade, Holland has served as the College of Business Administration's internship coordinator abd has placed more than 1,800 students in internships. More than 75 percent of the college's interns are offered full-time employment with their internship companies upon graduation, an important economic driver for the Omaha area. In addition to serving her students and UNO, Holland engages the Omaha community, incorporating service learning into her courses to help students understand the world more broadly.

University-wide Departmental Teaching Award (UDTA) - This award recognizes a department or unit within the NU system that has made unique and significant contributions to the university's teaching efforts. The honored department is awarded $25,000 to be used in a manner the department sees fit, such as for travel to a conference, instructional equipment or improvements to a classroom or student resource center.

- Department of Information Systems and Quantitative Analysis, UNO: The department is part of the College of Information Science and Technology. The department has a three-pronged mission - teaching that provides students with the skills they need to succeed as information systems specialists in a rapidly changing technological environment; research that leads to new knowledge to help organizations prosper as they confront changes in technology; and outreach that includes educational and training opportunities for Omaha-area residents and dissemination of knowledge to the community. The department offers bachelor's and master's degree programs in management information systems and supports other UNO academic programs. In 2009-2010, 260 undergraduates and 135 graduate students were enrolled as management information systems majors. One of the hallmark characteristics of the Department of Information Systems and Quantitative Analysis is the high level of collaboration among its faculty members. Distance education is one particular area where collaboration has resulted in success for the department, which offers an undergraduate degree entirely online. The department also offers a undergraduate mentoring program that provides a personal connection by pairing students with individual faculty members.

More details at: http://go.unl.edu/e7y