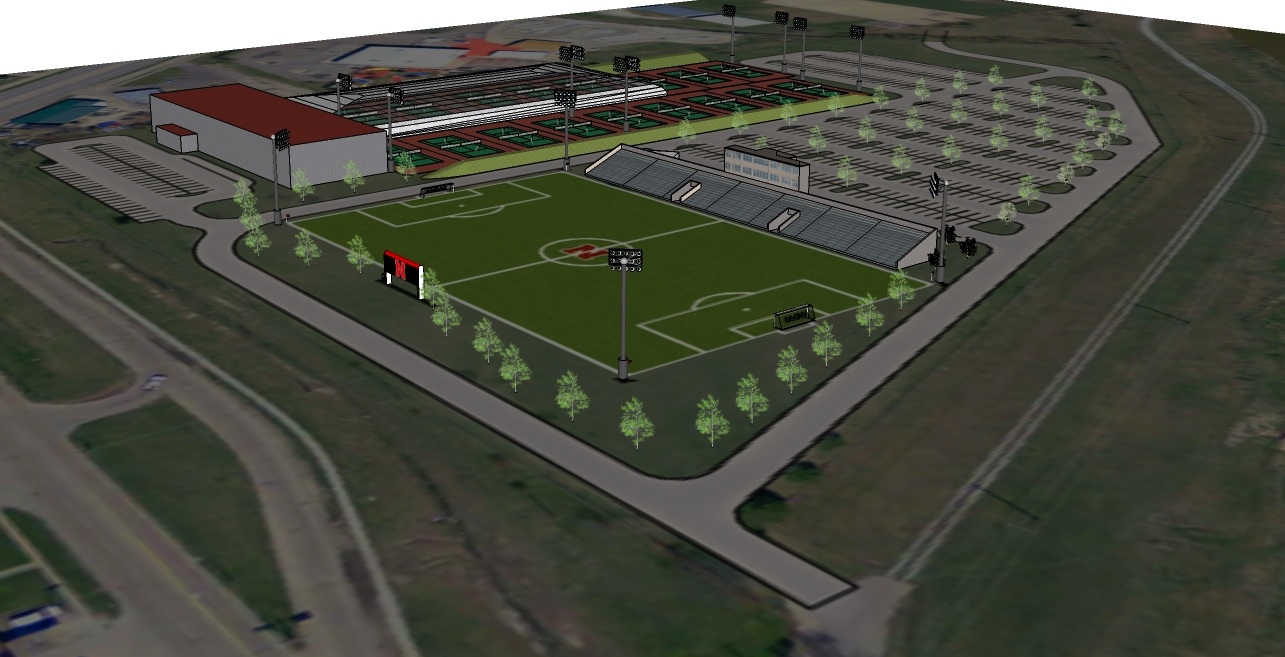 The NU Board of Regents on Thursday approved the program statement and budget for Nebraska Athletics to build dedicated, on-campus soccer and tennis practice and competition facilities.

The $20.4 million Nebraska Soccer and Tennis Complex will be located on 28 acres owned by the University of Nebraska-Lincoln. The 28 acres, the former site of the State Fair campground, is adjacent to the Nebraska Innovation Campus currently under development. The site has been cleared of the old campground RV support infrastructure as part of the demolition of the old State Fair Park buildings and related structures. The new facility will be built with private donations.

"This will benefit our student-athletes and will make good use of a piece of land that was otherwise not practical to be developed for Innovation Campus because of the flood plain," Chancellor Harvey Perlman said. "It also provides a much better vista for those on Innovation Campus than the existing landscape, so it is a win for everyone."

The new soccer facilities will include one outdoor, lighted, full-sized competition field with seating for approximately 2,500 spectators. Facilities for tennis will include 12 lighted outdoor courts and six indoor courts with a combined total of 1,400 seats for spectators. With minor renovations, the former campground shower house will be repurposed into mechanical space and equipment storage for the soccer field maintenance and ticket windows. About 600 to 800 surface parking spaces will be constructed on the site.

A 73,900-square foot support facility is also planned to serve all three programs and will include:

-- Dressing rooms, showers, and team rooms for men's and women's tennis;

-- Office, meeting and dressing rooms for tennis coaches and staff;

-- Game-day only dressing room, meeting room and showers for women's soccer;

-- Visiting team meeting rooms, dressing rooms, and showers;

-- Officials' dressing rooms and showers;

-- Satellite sports medicine treatment area and exam room; and

-- Spectator restrooms and concession stands.

The Husker women's soccer team will continue to use office and conference room facilities at the Hawks Championship Center, adjacent to Memorial Stadium.

"This soccer and tennis facility project will provide much-needed on-campus practice and competition facilities for our women's soccer and men's and women's tennis programs," Nebraska Director of Athletics Shawn Eichorst said. "It will immediately improve the practice and game-day experience for our student-athletes, coaches, staff and fans.

"Furthermore, the new facilities will assist each program in recruiting the nation's best and brightest prospective student-athletes to the University of Nebraska. We are very grateful to Chancellor Perlman, President Milliken and the Board of Regents for their leadership and support of this wonderful project."

Construction will begin in May 2014. The soccer fields could be completed in time for competition in the fall of 2014. The remaining facilities will be ready for the outdoor tennis season in 2015.

The new soccer and tennis facilities will rank among the best in the Big Ten Conference. Previously, Nebraska soccer practiced and competed on a soccer field located in the interior of Ed Weir Track and Field Stadium. It was the smallest competition field in the Big Ten Conference at 71 by 115 yards and the only field in the Big Ten without lights.

Nebraska tennis currently competes indoors at the privately owned Nebraska Tennis Center and outdoors at the Varsity Courts on campus. Both lack dedicated locker rooms. The consolidation of the facilities will vastly improve the use of student-athletes' and coaches' limited time and will enhance training, competition, recruiting and fan amenities.

"We are certainly grateful for the support of the indoor and outdoor tennis facilities," Head Women's Tennis Coach Scott Jacobson said. "Having a facility of this magnitude will enhance the opportunity to recruit top talent throughout the nation to this great institution."

"It has been a 20-year dream to have our team play in a soccer specific stadium on our own campus," Soccer Coach John Walker said. "The return of night games, a closer proximity of fans to the action and improved fan amenities will greatly enhance the game-day experience for both players and supporters.

"Everyone in the soccer program is very thankful for the support and generosity of our administration in making this project a reality. It's a monumental moment for the Nebraska soccer program."

Head Men's Tennis Coach Kerry McDermott concurred: "This is a dream come true for us to be able to conduct practices and host matches indoors and outdoors on our campus in the near future. This will create a better learning environment and will allow for more one-on-one time with our student-athletes. This no doubt will be a huge benefit to Nebraska tennis in the future and we are grateful for this opportunity."

Similar to other athletic facilities, the Nebraska Soccer and Tennis Complex will not generally be available for public use.