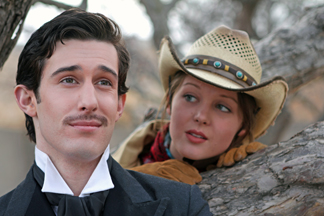 University Theatre completes its season with William Shakespeare's "Twelfth Night." The production opens at 7:30 p.m., April 7 in the Temple Building's Studio Theatre. It is directed by Ian Borden, assistant professor.

Set in the Old West in Illyria, the production is one of Shakespeare's most popular comedies of mistaken identity and love triangles. Twins Viola and Sebastian are separated during a shipwreck. Masquerading as a young boy in Duke Orsino's household, Viola finds herself in the hilarious web of the duke's relationship with Olivia and her various suitors.

"As for many of Shakespeare's plays, identity plays a huge part in 'Twelfth Night,'" said Borden. "Themes of love, power and gender are heightened by the use of disguise.

"In Shakespeare's time, the effect would have been even greater because boy actors played women's roles. Imagine that you have a boy acting the part of a girl who is in turn pretending to be a boy."

Cast members are Calandra Daby as Viola, Aric Damm as Duke Orsino, Reagan Lopez as Olivia, Sam Hartley as Sir Toby Belch, Trent Stork as Malvolio and Joey Galda as Sir Andrew Ague-Cheek. Other cast members include Hunter Larrison, Mike Lee, Emily Martinez, Kelsey Black, Jaimie Pruden, Ryan Rabstejnek, Calen Calero, Catherine Dvorak, Brandon Aylor, Shade Ingraham, Zac Franzen, Chelsea Joubert, Meghan Modrovsky, Stephanie Bourgeois and Tony Thomas.

The production is designed by Rachel Aguirre (scenic), Mallory Prucha-Rishoi (costumes), Jacob Boyett (lighting). The production is stage managed by Sean Grosshans.

Additional performances are at 7:30 p.m., April 8-9 and April 13-17 in the Temple Building. Tickets are $16 general admission, $14 faculty/staff and senior citizens, and $10 for students (with valid identification). Tickets are available at http://www.unltheatretickets.com; from the Lied Center for Performing Arts, (402) 472-4747, 800-432-3231; or in the lobby of the Temple Building one hour prior to each performance.
More details at: http://go.unl.edu/2po