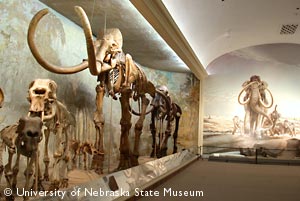 A promotion offering free admission to Morrill Hall on Thursday evenings will end Aug. 26. The free admission is offered from 4:30 to 8 p.m.

Regular admission to Mueller Planetarium fulldome shows will apply. After Aug. 26, Morrill Hall will continue to be open until 8 p.m. Thursdays, but beginning Sept. 2, regular admission will be charged.

Mueller Planetarium, located inside the museum, is featuring two fulldome shows on Thursday evenings in August. The astrophotography show, "Touching the Universe," will be shown at 6 p.m. Pink Floyd's "Dark Side of the Moon: The Fulldome Experience" shows at 7 p.m. For complete fulldome schedule, go to http://www.spacelaser.com.

The University of Nebraska State Museum in Morrill Hall is open from 9:30 a.m. to 4:30 p.m. Monday to Wednesday and Friday to Saturday, 9:30 a.m.-8 p.m. Thursdays, and 1:30-4:30 p.m. Sundays. UNL faculty, staff and students are admitted free with a valid NCard. Regular admission is $5 for adults (19 and over), $3 for children (5-18 years), free ages 4 and under, and $10 for families (up to two adults and children). Planetarium shows are $3 for adults 19 and older and $2.50 for children. Parking is free.

For more information, go to http://www.museum.unl.edu or contact Dana Ludvik at dludvik2@unl.edu or 472-3779.

More details at: http://go.unl.edu/tmr