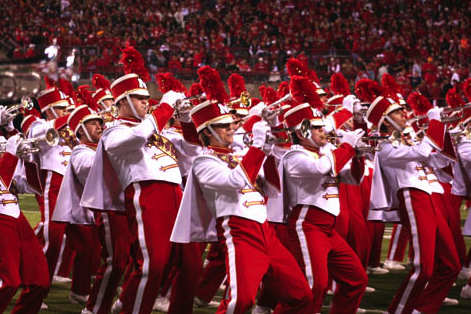 UNL's 288-member Cornhusker Marching Band will make its 2010 debut Sept. 4 at Memorial Stadium with pre-game and halftime performances at Nebraska's football season opener against Western Kentucky.

This year's band includes representatives from nearly every region of the country, but 83 percent of the students are from Nebraska. Approximately 20 percent of the students are music or music education majors. The remainder of the students are studying in more than 70 other degree programs across campus. Each band member passed two auditions to gain admittance to the group.

To see a list of band members by state and hometown, visit http://go.unl.edu/trw . Information includes year in school, academic major and role in the band.

Anthony M. Falcone, associate director of bands in the UNL School of Music, is the director of the Cornhusker Marching Band. Douglas W. Bush is the assistant director of bands and assistant marching band director. Carolyn Barber, associate professor of music, is director of bands. Other band staff members are graduate teaching assistants Cliff Towner, Raul Barcenes and Jeremy Cardamone. Ben Coleman is the band's percussion instructor and Ashlea Jurgens-Woitzel is the color guard instructor. Rose Johnson is the administrative technician for the band program, Jan Deaton is the office associate and Nolan Schmit is the announcer.

The drum majors for the 2010 marching band are seniors Craig Mathis of Omaha, Justin Potter of Nebraska City, and Amy Rischling of Alliance. The twirler is sophomore Rachel Foehlinger of Omaha.

The Cornhusker Marching Band is a unit of the UNL School of Music (http://www.unl.edu/music). It was founded in 1879 as an ROTC unit and is one of the oldest marching bands in the nation. The Marching Red has received many honors throughout its 131-year history, including a Distinguished Recognition Trophy presented by John Philip Sousa in 1927 and the John Philip Sousa Foundation's Sudler Trophy in 1996 for high musical standards and innovative marching routines. The Sudler Trophy is the highest honor given to collegiate bands.

The Marching Red has been seen by millions of viewers on television including in 2005, when the band was featured on the NBC prime-time series, "Tommy Lee Goes to College," and in 2007 on ABC's "Extreme Home Makeover: Home Edition." The band was the first collegiate ensemble to perform at all the major football bowl games (Rose, Orange, Fiesta, Sugar and Cotton).


More details at: http://go.unl.edu/trw