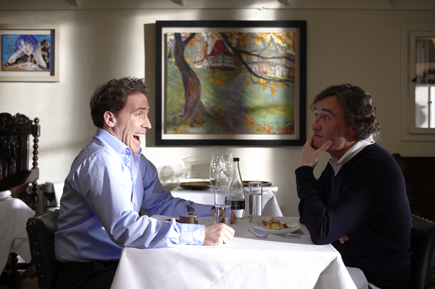 The road trip comedy "The Trip," directed by Michael Winterbottom, opens today at the Mary Riepma Ross Media Arts Center. Also showing is "Buck," a documentary about the horse whisperer Buck Brannaman.

"The Trip," showing through Aug. 18, follows Steve Coogan and Rob Brydon on an odyssey that has won over audiences at the Toronto and Tribeca film festivals.

When Coogan is asked by The Observer to tour the country's finest restaurants, he envisions it as the perfect getaway with his girlfriend. But, when she backs out, only Brydon, Coogan's best friend and source of external aggravation, is available to go on the trip. The friends drive each other made with a constant flurry of competing impressions. In the end, they realize a rich amount about not only good food, but the nature of fame, relationships and their own lives.

The film "Buck" is held over at the Ross, showing through Aug. 11. The film traces the life of Brannaman, from an abusive childhood to his phenomenally successful approach to horses. A real life "horse-whisperer," he eschews the violence of his upbringing and teaches people to communicate with horses through leadership and sensitivity, not punishment.

For more information, including show times, click the link below or call (402) 472-5353.
More details at: http://www.theross.org