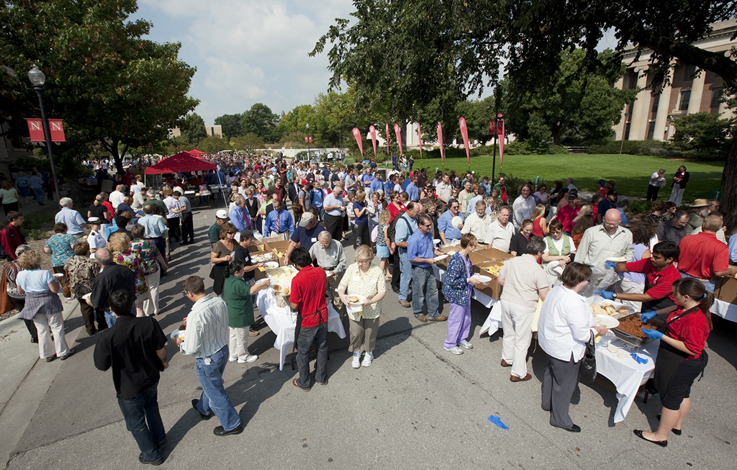 Chancellor Harvey Perlman will deliver his annual State of the University address at 11 a.m. Sept. 9 at the Lied Center for Performing Arts.

Perlman will review the successes of the past year and describe the challenges and opportunities offered by the 2010-11 academic year. The address is free and open to the public and will be broadcast live on the UNL Web site, http://www.unl.edu; Lincoln Time Warner cable Channel 21, NebSat 105, KRNU Radio (90.3 FM) and Campus Channel 4.

The State of the University address will be preceded by UNL's annual Employee Service Award recognition program at 10:30 a.m. in the Lied Center. Immediately after the address, the all-university picnic will be in the Lied Plaza, sponsored by University Dining Services and its vendors.

Because of the all-university picnic, two streets near campus will be closed from 7 a.m. until about 3 p.m. Sept. 9: 12th Street between Q and R streets and R Street between 12th and 13th streets.

East Campus faculty and staff should ride UNL's 24th and Vine shuttle bus route to attend the events. Pick-up points on East Campus are Ag Hall, Animal Science (west side) and the College of Law. The buses will depart from the south side of the Nebraska Union to return to East Campus. Buses on the 24th and Vine route are scheduled to be no more than 10 minutes away from each individual stop. For more information on the route schedule, go to http://parking.unl.edu.

Campus delivery of the annual Year in Review edition of the Scarlet will be delayed until Sept. 10 because of a printing delay. The Year in Review edition recaps UNL successes during the previous academic year and is designed as a supplement to the chancellor's State of the University address.