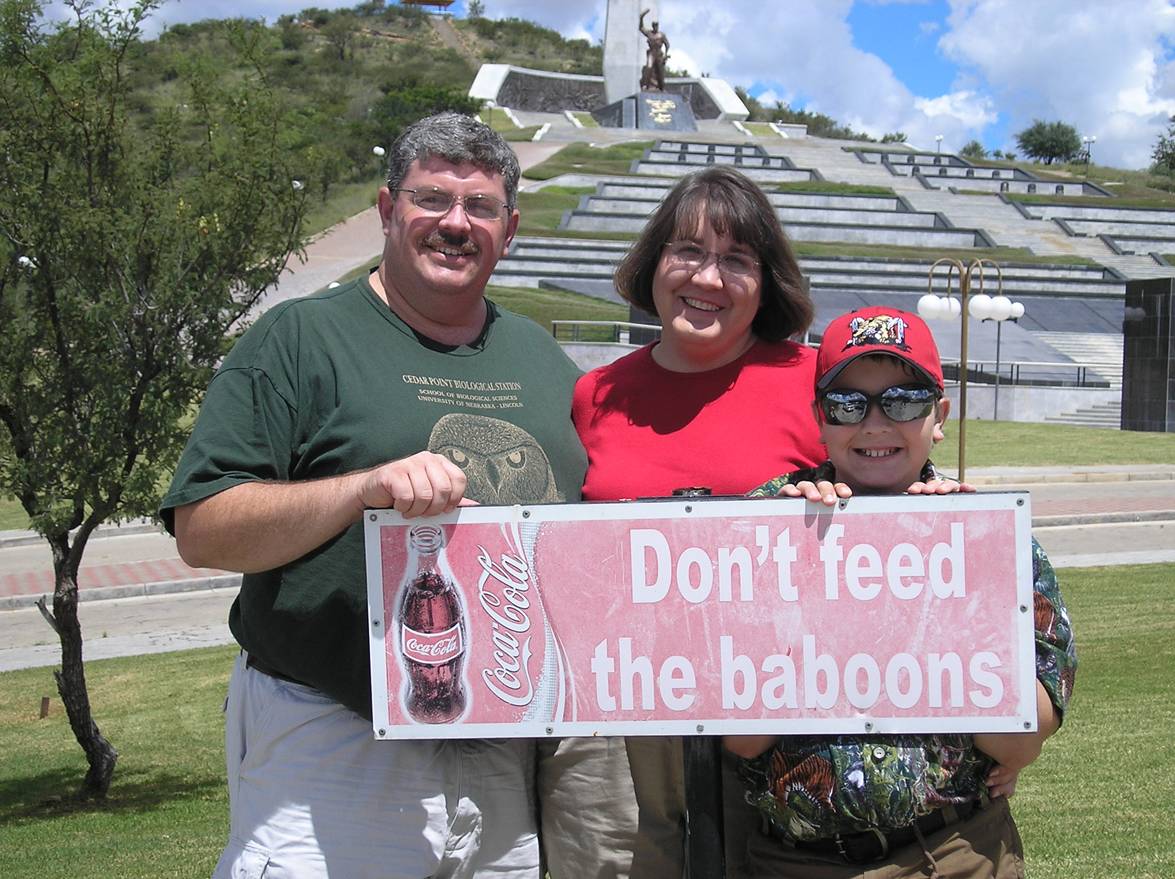 The first talk in the School of Natural Resources Outreach Seminar Series will take its audience to Namibia. Located in southern Africa, Larkin Powell and his family lived there during his Fulbright Fellowship year in 2009.

Powell, professor of conservation biology and animal ecology, and his wife Kelly will present "Living with Lions in Namibia: How Three Suitcases and One Year Changed Our Lives" 7 p.m. Sept. 14 in the Hardin Hall Auditorium.

The Powells, along with their son Tristan, lived and worked in Namibia alongside the white ranching community, indigenous farmers, college educators and students and pre-school and orphanage children. They had elephants, leopards and lions around them as they ventured on camping trips into one of the least-populous countries in the world.

"We'll be telling the story of a country that very few people know about, and we hope to express how much we enjoyed the experience," Powell said. "I hope people will understand the difference between being a tourist in a country and learning from that country - incorporating experiences and lessons learned into your daily life. It was a powerful year for us."

The Powells' photos help convey the diversity of people, animals and landscapes that they encountered. They will also discuss reverse culture-shock, describing lessons of conservation and simple living that they learned from the people of Namibia.

Free parking is available adjacent to Hardin Hall. All lectures in the series begin at 7 p.m. Refreshments are also available.

Other lectures in the series include:

Sept. 21, "Ecology and Management of Prairies," Chris Helzer, author, "The Ecology and Management of Prairies in the Central United States," and program director for The Nature Conservancy.

Oct. 5, "A Conversation about Nebraska Water," Jim Goeke, hydrogeologist, Conservation and Survey Division, School of Natural Resources, UNL.

Oct. 12, "Meet Nebraska's Turtles and Reptiles," Dennis Ferraro, herpetologist, School of Natural Resources, UNL.

Nov. 2, "Indigenous People and Island Conservation," Paul Cox, executive director, Institute for Ethnomedicine, Jackson Hole, Wyoming.

Nov. 9, "Amphibians and Reptiles of Nebraska," Dan Fogell, herpetologist and author, "A Field Guide to the Amphibians and Reptiles of Nebraska."

Dec. 7, "Mineral Resources and Civilization: The Arrogance of Ignorance," Matt Joeckel, geologist, Conservation and Survey Division, School of Natural Resources, UNL.