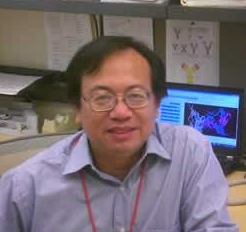 The Department of Biochemistry hosts a lecture by Shi-Hua Xiang at 4 p.m., today in the Beadle Center, room N172. The lecture, "HIV-1 Envelope Structure-Based Vaccine Design," is free and open to the public.

Xiang is a research associate professor in the School of Biological Sciences. He won the university's first Bill & Melinda Gates Foundation Grand Challenges Explorations grant. The $611,000 grant, announced in July, is one of 12 Phase II grants in the Grand Challenges Explorations that will foster creative projects that show great promise to improve the health of people in the developing world. Global health topics are targeted to diseases like malaria, HIV/AIDS and other infectious diseases.

Xiang's research proposes engineering lactobacillus, bacteria which normally reside in human genitals and the gastrointestinal tract, to carry anti-HIV agents such as neutralizing antibodies, peptides or other inhibitors. He and his colleagues hypothesized that introducing the engineered bacteria into the gastrointestinal tract would allow the bacteria to colonize and provide long-lasting protection against the virus.

In phase one of his research, Xiang demonstrated that the engineered anti-HIV lactobacillus can efficiently block HIV infection in a tissue culture system. The approach will next be tested in a non-human model.
More details at: http://go.unl.edu/jje