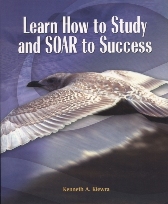 General Studies is offering a study strategies session, 2:30 to 3:30 p.m., Sept. 15 in the Nebraska Union Auditorium. The presentation is geared open to all students, and faculty are asked to encourage students to attend.

The free session will feature Ken Kiewra's presentation, "How to SOAR to Success in College." The "SOAR" acronym stands for "Select, Organize, Associate and Regulate." Kiewra is a professor of educational psychology.

The session will include information on how to select and note important ideas, organize them using graphic organizers, associate ideas to learn important relationships, and regulate learning through self-testing.

For more information, go to http://go.unl.edu/6j8, or contact General Studies at 472-3605.
More details at: http://go.unl.edu/6j8