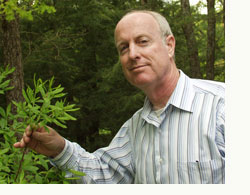 The author of "Bringing Nature Home," Douglas Tallamy, will speak at 7 p.m., Sept. 23 in the Hardin Hall auditorium. He is the featured speaker of the 2011 Joseph and Dorothy Young Memorial Lectures in Horticulture.

The subtitle of the lecture, "how native plants sustain wildlife in our gardens," has been the focus of Tallamy's research on interactions between plants and insects for several decades.

With 95 percent of the land in the United States developed in the form of cities, suburbs and agriculture, Tallamy said, suburban gardens play an increasingly essential role in sustaining the plants and animals essential to biodiversity. Ecosystems are dependent on biodiversity to generate clean water, topsoil and oxygen and to buffer extreme weather like drought and flooding.

"We've tended to think of our gardens as sources of beauty, a chance to express our artistic talents," said Tallamy. But with so little land remaining in its natural state, "our gardens now play a much more crucial role than we ever imagined." Even small choices, like planting a native dogwood rather than Kousa dogwood from China, means providing food sources for more than a hundred native moths and butterflies. Songbirds have decreased by 40 percent since the 1960s, but planting native trees and shrubs can help increase those numbers.

Tickets are $10 for arboretum members, $12 for general public and free to UNL students with valid I.D. Space is limited. Tickets can be purchased in advance by calling 402-472-2971. Doors open at 6 p.m.

The Joseph and Dorothy Young Memorial Lectures in Horticulture honor the late Joseph Young. Young (1914-1997) served the university from 1958 to 1980 as chair of the Department of Horticulture and as founder and first director of the Nebraska Statewide Arboretum. A visionary advocate for landscape beautification, he helped establish the Maxwell Arboretum, and later the UNL Botanical Garden and Arboretum. The lecture series is hosted by the Nebraska Statewide Arboretum and made possible through a gift from the Young family.