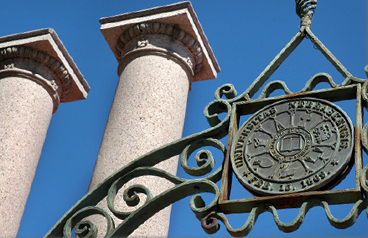 International Affairs has a new acting director and assistant director in the study abroad program. Rebecca Luhrs is acting director of study abroad. Maegan Stevens-Liska is acting assistant director.

Ellen Weissinger, senior vice chancellor for academic affairs, announced the position changes Sept. 19.

Luhrs has a master's degree in public administration from the University of Washington and a bachelor's in international relations and Middle Eastern studies. She served in the Peace Corps in Morocco and worked at AMIDEAST as a program officer. She is responsible for the administrative and programmatic oversight of all education abroad programs sponsored by the university and directs and manages the implementation of international academic experiences for students.

Stevens-Liska works with faculty to design and develop faculty-led study abroad programs; works with faculty program leaders, travel agents and students on program logistical arrangements; manages the Global Gateway Scholarship program; and serves as a liaison with Scholarships and Financial Aid, Student Accounts and Registration and Records, and college academic advisers, to support study abroad initiatives. She has experience as an academic support specialist with the UNL McNair Scholars program and experience teaching English courses in Dresden, Germany.

"I'm pleased to announce this new team who will collaborate with students, faculty, college advisers, university administrators and our international partners to create and implement study abroad initiatives that will expand study abroad opportunities and encourage students' development as global scholars," Weissinger said. "In his State of the University Address, Chancellor Perlman listed undergraduate study-abroad experiences and international opportunities as top priorities. International Affairs is better prepared to support these efforts."

The Fall Study Abroad Fair is 11 a.m. to 2 p.m. Sept. 27 in the Nebraska Union. Students and others are encouraged to learn about study abroad opportunities and meet the new staff.

Plans to permanently fill the positions will be scheduled for early 2012. Former director Christa Joy retired in early September. She had directed study abroad since 2005.

For more information about study abroad, send email to studyabroad@unl.edu.
More details at: http://go.unl.edu/nug