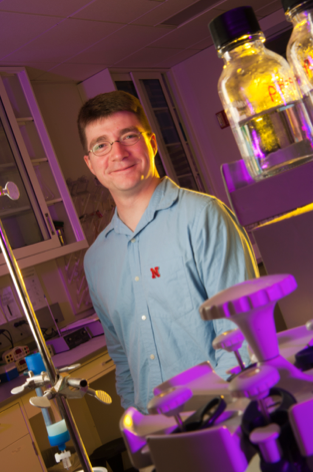 Mark Wilson, associate professor of biochemistry, will discuss his research into the DJ-1 protein at noon, Oct. 12 in the East Union. The lecture, "Functional Diversity in the DJ-1 Superfamily: From Parkinson's Disease to Microbial Defense," is part of the Nebraska Gateway for Nutrigenomics Seminar series.

Wilson was recently awarded a $1.35 million grant from the National Institutes of Health's National Institute of General Medical Sciences to expand his research into the protein family. A genetic mutation of the DJ-1 protein can cause damage to cells and lead to diseases such as Parkinson's, Alzheimer's and ALS.

Wilson uses X-ray crystallography to determine DJ-1's three-dimensional structure in its normal and mutated forms to better understand how the protein contributes to neurodegenerative diseases.

Read more about his research at http://go.unl.edu/0ua.

The free lecture is open to all faculty, staff and students.