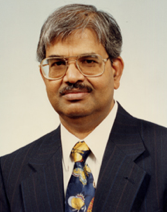 A UNL entomologist has received the 2011 Recognition Award in Urban Entomology from the Entomological Foundation.

Shripat Kamble will receive the award at a meeting in November. The award is given for "outstanding extension, research and teaching contributions in urban entomology."

Kamble is a professor of entomology at UNL, where he's worked for 33 years. His research on distribution of termiticides in soils contributed to label changes that now recommend drilling holes one foot apart to create a continuous chemical barrier. He also participated in national termiticide research to develop data for reduction in exterior treatment and targeted interior treatment. He also has promoted the use of bait products in sensitive environments, rather than pesticides.

As a professor, Kamble has supervised eight master's and 11 Ph.D students. Kamble received his Ph.D. in entomology from North Dakota State University in 1974.