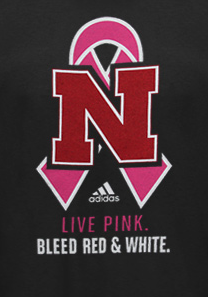 Coaches Rhonda Revelle and Bo Pelini want Husker fans to trade their traditional red garb for pink on Oct. 21. The temporary change is part of UNL's "Wear Pink and Walk at Work Against Breast Cancer" event, held in conjunction with National Breast Cancer Awareness month.

Watch a video featuring Revelle and the "Wear Pink and Walk at Work" event at http://go.unl.edu/ghr.

Individuals and groups are asked to collect pledges and go for a short walk during the work day on Oct. 21. Pledges collected will support the national Making Strides Against Breast Cancer campaign.

To get involved, faculty and staff should:

• Get approval from your supervisor to walk during the work day on Friday, Oct. 21. Recruit friends or colleagues to walk with you.

• Solicit pledges or just make an individual donation. The suggested pledge is $5 per 15 minutes of walk time but any amount is accepted.

• Go online to the UNL Wellness team page at http://go.unl.edu/07n to post individual or group pledges.

• Plan your route and set a time. You can walk for 15 minutes or spend your lunch hour walking, whatever your schedule permits.

• Go out for your walk. Be sure and wear pink to show your support for breast cancer awareness.

• Individuals can also register to join the UNL Wellness team for the Making Strides walk, 1 p.m., Oct. 23 at Holmes Lake Park. The team will meet for a pre-walk huddle at 12:40 p.m. Look for the red balloons.

The Wear Pink and Walk at Work event is sponsored by the UNL Wellness Initiative. For more information, contact Kimberly Barrett, assistant director for wellness, at kbarrett4@unl.edu or 402-472-9480.
More details at: http://go.unl.edu/ghr