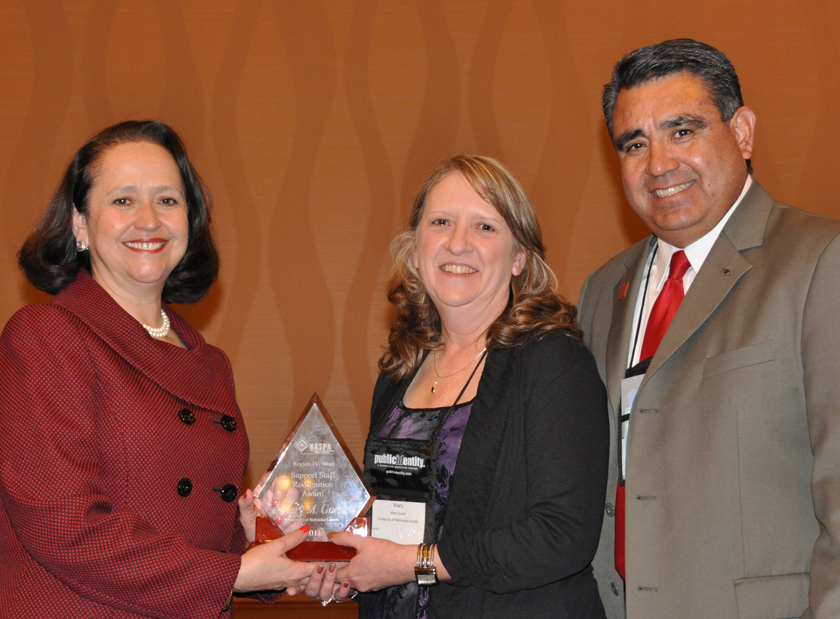 Mary Guest received the annual support staff recognition award from the NASPA Student Affairs in Higher Education group. Guest, who has worked at UNL since 1998, is administrative assistant to the vice chancellor for student affairs.

The NASPA award recognizes a member of the support staff at a NASPA IV-West member institution campus.

Guest has chaired numerous committees for the University of Nebraska Office Professionals Association and served as the organization's president.

Guest continually looks for opportunities to enhance her professional knowledge. IN 2010, Guest logged more than 30 hours of training in workshops such as "positive attitude process," "five actions for great work, great life," "campus violence prevention," and "bridging opportunities." Additionally she is becoming a certified parliamentarian.

According to nominators, Guest consistently performs in various positions with intelligent actions and a quiet in assuming strength. She exemplifies the high qualities employees strive for and managers look for. A positive demeanor and a genuine ability to put people at ease are two of her top characteristics. Colleagues and administrators know Guest will assist students and staff in a pleasant manner while maintaining the confidentiality and seriousness the situation may demand. She applies those characteristics to work relationships, volunteer positions, and to friends and family, while demonstrating a truly excellent sense of humor that is never at the expense of others.