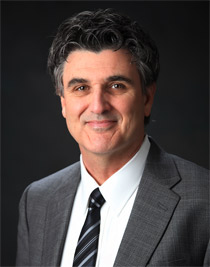 Chuck O'Connor, one of four candidates for dean of the Hixson-Lied College of Fine and Performing Arts, is on campus interviewing and will give a public presentation 3:30-5 p.m. today in the Sheldon Museum of Art auditorium.

O'Connor is dean of the College of Visual and Performing Arts at Indiana University-Purdue University Fort Wayne. He spends his time thinking and speaking about the changing role of the arts in our communities and higher education. An advocate for all the arts, he has left his mark on several universities through successful fundraising, program development, as well as community and corporate partnerships.

At IPFW, with an endowment from Sweetwater Sound Inc., he began a music technology program to focus on emerging technologies and media. With the help of a private donor, his college opened the off-campus Continuum Art Gallery that serves as an anchor for urban redevelopment in downtown Fort Wayne. He is the host of Arts Weekly on WFWA-PBS, which airs throughout northern Indiana each week.

At the University of Nevada, Las Vegas, he raised substantial money and doubled the audience size of The Nevada Conservatory Theatre, making it the most subscribed performing arts organization in Las Vegas, and winning the "Best of Las Vegas" award. At UNL, in the 1990s, he envisioned, developed and procured funding for a film and new media program implementing the early use of digital technology and interactive media.

O'Connor has won numerous awards for his work in computer visualization and design for television and theatre.

Upcoming presentations are Shawn Brixey, Dec. 9; and Heather Landes, Dec. 13. Both are 3:30-5 p.m. at Sheldon. For more information about the candidates, including a candidate evaluation form, visit http://unl.edu/svcaa/search/fpadean .
More details at: http://go.unl.edu/gut