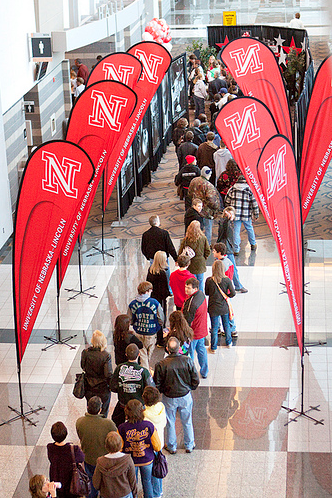 The deadline to register for a booth at the March 4 Big Red Road Show is Dec. 9. The annual event will be at the CenturyLink Center in Omaha.

Exhibitors can register at http://roadshow.unl.edu.

The Big Red Road Show is designed to showcase UNL's intellectual and student life possibilities with prospective students and the Omaha community. The theme is "10th Annual Big Red Road Show: Honoring the Past; Building the Future."

The event will feature more than 75 interactive booths honoring Nebraska's past through research, academics and athletics. The booths also share opportunities for student discovery, academic excellence and student life traditions that shape UNL students.

Other important Big Red Road Show dates: Jan. 26, Town hall meeting; Jan. 27, volunteer's registration deadline; Feb. 23, town hall meeting; and March 4, Big Red Road Show.
More details at: http://go.unl.edu/mik