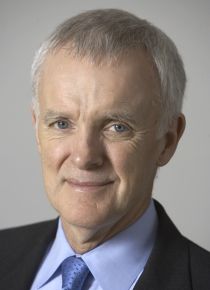 Former Nebraska Gov. and U.S. Sen. Bob Kerrey is the third speaker for the new Heuermann Lectures in the Institute of Agriculture and Natural Resources at UNL.

"Conflict and Resolution on the Missouri River" is his topic for a 4 p.m., Dec. 12 lecture in the Hardin Hall auditorium.

"The Missouri River has been both sustaining and tormenting animal and plant life forms for millions of years," Kerrey said. "The first humans to deal with the river lived nomadic lifestyles without ownership traditions and issues, making it rare physical structures built inside the river's flood boundaries would be at risk in spring and summer when the water rises."

That changed with the arrival of Europeans.

"They were drawn to the new land precisely because ownership was possible," Kerrey said. "They were farmers, ranchers, builders, dreamers, developers and boosters.

"For them the stream flow of the Missouri was something to claim, to manage and to control," Kerrey said. "Conflicts between property owners and between alternative visions of community began almost immediately and have been raging ever since. The 2011 flooding is just the latest."

In his public lecture Kerrey will focus on three critical moments in which the resolution of Missouri River conflicts produced federal and/or state laws that continue to affect lives today.

"As Nebraska's former governor and U.S. senator, Bob Kerrey knows the importance of water to our powerhouse agricultural state, and to the nation and world. He knows what conflicts concerning water mean," said Ronnie Green, University of Nebraska vice president and Harlan vice chancellor of IANR.

"Understanding the challenges to the preservation and sustainability of water and other natural resources is vital as we consider the challenges of feeding the world."

Heuermann Lectures focus on meeting the world's growing food and renewable energy needs while sustaining natural resources and rural communities.

Lectures run monthly throughout the school year, and are made possible by a gift from B. Keith and Norma Heuermann of Phillips, long-time university supporters with a strong commitment to Nebraska's production agriculture, natural resources, rural areas and people.

Kerrey served as Nebraska's governor from 1983-1987, and as U.S. senator from Jan. 3, 1989 to Jan. 3, 2001. He was president of The New School in New York from 2001-2010, and in July 2011 joined M&F Worldwide Education Holdings as company chairman. He is responsible for the company's education businesses and leads strategic initiatives and evaluation of future investments in the education sector.

He was a member of the 9-11 Commission, and is a Congressional Medal of Honor recipient.

A 3:30 p.m. reception in the Hardin Hall lobby precedes Kerrey's lecture.

Stewart Brand, author of "Whole Earth Discipline: An Ecopragmatist Manifesto," will be the Heuermann Lecturer at 7 p.m., Jan. 17 in Kimball Hall.
More details at: http://go.unl.edu/2sb