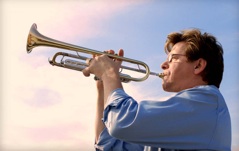 Jazz lovers can come to the Lied Center for Performing Arts to experience a night of world-class music 7:30 p.m. Oct. 15 when Wayne Bergeron joins up with the Nebraska Jazz Orchestra.

Wayne Bergeron is considered to be one of L.A.'s most highly sought-after and award-winning trumpet players. He has been involved with numerous famous recording artists ranging from Beyonce to Josh Groban and from Barry Manilow to "Weird Al" Yankovic. His movie credits are just as extensive, with his trumpet being heard in countless movies such as "Catch Me if You Can," "Finding Nemo," "Hot Rod," and "The Day After Tomorrow." He can also be heard on the theme song for the television show "Family Guy."

In 1986 Bergeron landed the lead trumpet position with the Maynard Ferguson Band. He can be heard on such Maynard Ferguson recordings as "Body and Soul," "Big Bop Nouveau," and "Brass Attitude."

Ferguson (now deceased) praised the talent of Bergeron during a radio interview years ago.

"Wayne is the most musical lead trumpet player I've ever had on my band," said Ferguson in the interview.

The Lied concert, "Waynard plays Maynard," will include swinging jazz, emsemble performances, one-liners, inside jokes and general hilarity from Bergeron.

He will perform with Nebraska's premier jazz group, the Nebraska Jazz Orchestra. The orchestra began in 1975 and has become one of the Midwest's premiere big bands. The orchestra has produced seven volumes of recordings featuring more than 60 original compositions and arrangements written by the ensemble's members, alumni and friends. For more information on the group, go to http://www.artsincorporated.org/njo.

"We are thrilled to play with Wayne, a real legend among trumpet players and jazz lovers," said Ed Love, music director for the Nebraska Jazz Orchestra. "His work with Maynard Ferguson's band endeared him to people all over the world, and his current stint with Gordon Goodwin's Big Phat Band has done nothing to tarnish his reputation as one of the best lead trumpet players ever."

Tickets are $25 for adults and $12.50 for students. Discounts are available for groups of 20 or more. For more information, or to purchase tickets, go to http://www.liedcenter.org or call (402) 472-4747.
More details at: http://www.liedcenter.org