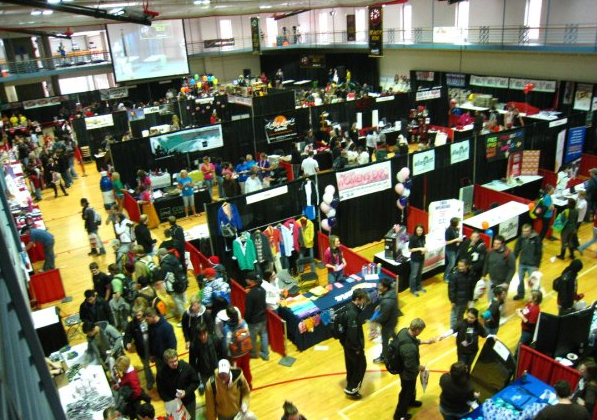 The largest college lifestyle festival in the Midwest returns to the UNL campus for its sixth year on Jan. 19-20. Held at the UNL Campus Recreation Center, Get Rec'd showcases more than 75 vendors and includes free food, prizes and giveaways.

Participants have the opportunity to try out the latest products and technology, and experience sights and sounds from local and national companies. Those attending can also enter to win more than $20,000 in prizes. The two-day festival takes place 11 a.m. to 4 p.m. each day and attracts more than 10,000 UNL students, faculty, staff and supporters. Admission is free and open to the public.

CONTESTS
The Ultimate Road Trip Challenge brings together 10 teams of two in fierce competition to win the grand prize, an all-expenses-paid, seven-day Spring Break cruise to the Western Caribbean. The competition is spread over the two days of Get Rec'd and those interested in participating can sign up on the Get Rec'd website (http://www.getrecd.com). Participants must register in teams of two and all contestants must be current UNL students or Campus Rec members. At least one contestant in the team of two must be 21 years of age and both participants must currently have or be able to obtain a passport. Entry deadline is Jan. 15.

Get Rec'd hosts several other competitive contests including Husker Superstars presented by Nebraska Athletics, Pepsi Olympics presented by LINPEPCO and Wii Just Dance 3TM. All contests include prizes for first, second and third place, including Husker football tickets, tablets, memorabilia, gift certificates and more. Contestants can sign up at the event to participate.


ENTERTAINMENT SCHEDULE
Thursday, Jan. 19
11 a.m. Get Rec'd Opening
11:30 a.m. Nebraska Fashion Show (presented by University Bookstore)
12 p.m. Ultimate Road Trip Challenge – Day 1 (trip cash donated by University of Nebraska Federal Credit Union)
1:30 p.m. Zumba Demo
1:45 p.m. Wii Just Dance 3
3 p.m. Turbo Kick Demo

Friday, Jan. 20
11 a.m. Pepsi Olympics (presented by LINPEPCO)
12 p.m. The Scarlets Dance Performance
12:30 p.m. Husker Superstars (presented by Nebraska Athletics)
2 p.m. Hip Hop Hustle Demo
2:30 p.m. Ultimate Road Trip Challenge – Day 2 (trip cash donated by University of Nebraska Federal Credit Union)

FREE T-SHIRT SERVICE PROJECT
For several years, Get Rec'd has capitalized on its popularity to bring awareness and support to various non-profits. This year, Get Rec'd is partnering with the American Cancer Society Relay for Life, an organization that raises money for cancer research and provides support for cancer patients and families.

At the ACS Relay for Life booth, each attendee will receive a free Get Rec'd t-shirt by one of two ways: 1) signing up to participate in the local ACS Relay For Life scheduled for March 31 in Cook Pavilion or 2) make a minimum $1 cash donation. The goal is to raise awareness for Relay for Life and collect $6,000 for the organization.

Click the link below for a complete listing of contests, prizes, schedules, exhibitors and sponsors at this year's event.

Updates are available at http://www.facebook.com/GETRECD.
More details at: http://go.unl.edu/get_recd