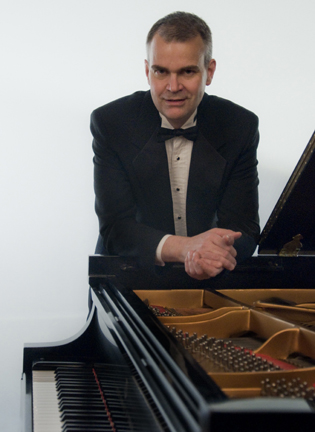 Pianist Robert Satterlee will play a free, public recital 7:30 to 9 p.m., Jan. 18 in Kimball Recital Hall.

Satterlee, associate professor of piano at Bowling Green State University, is a guest artist visiting Paul Barnes, professor of music. The performance will include "Two Etudes (Homage to William Albright)" by David Gompper; "Bodacious Gaits" by Doug Opel; "La folia II: Lacuna" by Marilyn Shrude; "Vendaval" by Gabriela Lena Frank; "Torn" by Evan Chambers; "Estela: Rag Latino" by William Bolcom; "Prelude and Toccata" by Evan House; and "Five Chromatic Dances" by William Albright.

Satterlee has developed a reputation as an accomplished and versatile solo recitalist and chamber musician. He plays regularly throughout the United States. In the summer of 2011 he played concerts at the new Romanian-American festival in Romania, the World Piano Conference in Serbia and at the Interlochen Arts Center in the United States. He recently was a featured performer at the Piano Plus Festival and the Corfu Festival in Greece and has also played concerts in China, Thailand, Sweden, Holland and Kenya. He has been heard in radio broadcasts throughout the United States, most notably on Minnesota Public Radio and WFMT in Chicago.

Satterlee's most recent commissioning project centers around the American composer William Albright, a longtime member of the faculty at the University of Michigan. Satterlee has commissioned his former students and colleagues to write solo piano works in Albright's memory, which he pairs with Albright's seminal work, the "Five Chromatic Dances."

For more information about Saterlee's performance at UNL, contact Mike Edholm at medholm2@unl.edu or 402-472-6865.