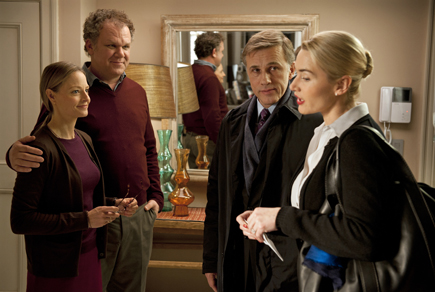 Roman Polanski's biting comedy "Carnage" and Steve McQueen's riveting drama "Shame" open today at the Mary Riepma Ross Media Arts Center. "Carnage" plays through Jan. 26. "Shame" plays through Feb. 2.

"Shame," rated NC-17, is a plunge into the mania of addiction. Brandon (played by Michael Fassbender) is a New Yorker who shuns intimacy with women, but feeds his desires with a compulsive addiction to sex. When his wayward younger sister (Carey Mulligan) moves into his apartment, memories of their shared painful past send Brandon's life spinning out of control.

Fassbender's performance received the Best Actor honor from the British Independent Film Awards.

In "Carnage" (rated R), Polanski teams with playwright Yasmina Reza to adapt Reza's Tony Award-winning play about four New York parents who gather for a civilized discussion after a fight between their children.

Alan (Christoph Waltz) and Nancy (Kate Winslet) are the parents of Zachary, a young schoolboy who fought with and broke two of classmate Ethan's teeth. Ethan is son to Penelope (Jodie Foster) and Michael (John C. Reilly).

Convinced they can find an amiable solution to the problem rather than dragging lawyers into the picture, Ethan's parents invite Alan and Nancy to their home to discuss the matter in a comfortable setting.

At first the conversation is cordial, with both sets of parents stating their own perspectives over coffee and dessert. But once the booze starts to flow and the guards come down, things begin to turn combative. As the evening wears on, both sets of parents are slinging venomous insults and engaging in underhanded behavior that makes their kids' tooth-chipping tussle look like child's play.

For more information, go to http://www.theross.org or call 402-472-5353.
More details at: http://www.theross.org