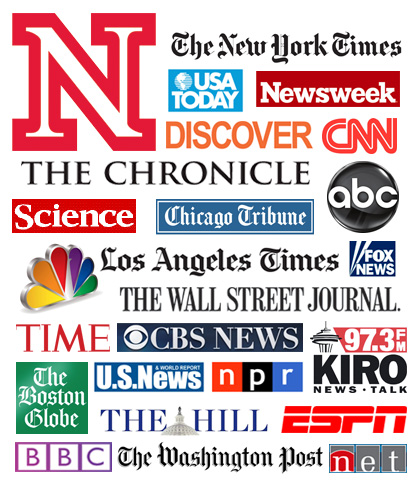 National media outlets featured and cited UNL sources on a number of topics in the past month. Appearances included:

The Chiara String Quartet, artists in residence at UNL, was featured in a Jan. 29 story from the Kansas City Star about their dedication to education and advocacy of new music.
http://go.unl.edu/8nb

Wheeler Winston Dixon, film studies, was interviewed for NPR's All Things Considered on Jan. 15 about the art of the modern movie trailer. On Jan. 27, he was cited by Slate.com about advance advertising in Hollywood, with a link to an installment of the video series Frame By Frame on movie trailers.
http://go.unl.edu/y5r
http://go.unl.edu/4q8

Mike Dodd, psychology, and Kevin Smith and John Hibbing, political science, had their research into the physiological and cognitive differences between the political left and the political right featured widely in January. Appearances included Discovery News, Wired, The Economist, Huffington Post, The Guardian (UK), the Telegraph (UK), and a four-minute video segment on BBC News.
http://go.unl.edu/bh5
http://go.unl.edu/fgq
http://go.unl.edu/g4r
http://go.unl.edu/28i
http://go.unl.edu/k39

Al Dutcher, School of Natural Resources, was quoted in a Reuters article on Jan. 30 about U.S. cattle herds being moved north in light of persistent southern drought.
http://go.unl.edu/gir

Peter Harms, management, had his and Fred Luthans' research into the measurement of implicit psychological capital featured in a number of outlets in mid-January, including the Discovery Channel, Business News Daily of New York, LiveScience.com and Yahoo! News.
http://go.unl.edu/fhg
http://go.unl.edu/fdr
http://go.unl.edu/i3w

The university's Jan. 5 announcement on saving the Industrial Arts Building at Nebraska Innovation Campus resulted in coverage from Associated Press that appeared in dozens of media outlets around the nation.
http://go.unl.edu/scb

James Keen of the Great Plains Veterinary Educational Center was cited Jan. 23 in an Associated Press story about UNL leading a $25 million, multi-institution research project into E. coli bacteria.
http://go.unl.edu/tvb

Kirk Kluver, former assistant dean for admissions at the College of Law, was quoted in a Jan. 20 New York Times article about how athletics have become the public face of major research universities.
http://go.unl.edu/hfc

Chancellor Harvey Perlman was quoted in USA Today Jan. 17 about compensation for head football coaches amid economic struggles and shrinking state education budgets.
http://go.unl.edu/gox

Comments by former NASA astronaut Mark Kelly during his Jan. 23 appearance at UNL for the Peter J. Hoagland Integrity in Public Service Lecture made national news as speculation swirled about a replacement in Congress for Kelly's wife, Gabrielle Giffords.
http://go.unl.edu/w4o

Kenneth Price, English, and the director of the Center for Research in the Digital Humanities, was cited by The Chronicle of Higher Education on Jan. 7 on the moment when faculty members are likely to become engaged in the digital humanities.
http://go.unl.edu/75j

Stephen Ramsay, English, was quoted in a Jan. 23 New York Times commentary from Stanley Fish on the digital humanities, in which he was referred to as "perhaps the most sophisticated theorist of the burgeoning field."
http://go.unl.edu/8h4

Eric Thompson, economics and director of the Bureau of Business Research, was quoted in a national Associated Press article on Jan. 30 following the Bureau's economic forecast for the state in 2012 and 2013.
http://go.unl.edu/t9v

Frans von der Dunk, space, cyber and telecommunications law, was quoted Jan. 17 by the Des Moines Register about international treaties banning the launching of a nuclear device into space to ward off threatening near-earth objects.
http://go.unl.edu/bp5

Mike Wagner, political science, was quoted Jan. 17 by the Washington Times about the possibility of former U.S. Sen. Bob Kerrey entering the 2012 Nebraska race. On Jan. 25, he was quoted by the New York Times on the same topic.
http://go.unl.edu/e34
http://go.unl.edu/vbd

Matt Waite, journalism, appeared on the WNYC and NPR program On The Media on Jan. 13 to discuss the potential uses and challenges of using drones to gather news. http://go.unl.edu/gs2

This is a monthly column featuring UNL faculty, administrators and staff in the national news. National media often work with University Communications to identify and connect with UNL sources for the purpose of including the university's research, expertise and programming in published or broadcasted work.

Faculty, administration, student and staff appearances in the national media are logged at http://newsroom.unl.edu/inthenews/

If you have additions to this list or suggestions for national news stories, contact Steve Smith at 402-472-4226 or ssmith13@unl.edu.