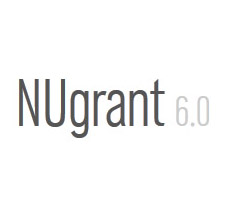 Improvements to NUgrant will simplify navigation and enable users to quickly find their most recently viewed projects and other critical items for managing grants and fulfilling reporting requirements.

On Feb. 1, the Office of Research and Economic Development launched NUgrant 6.0, an upgrade that allows users to personalize the look and feel of NUgrant. The goal of this upgrade is to make NUgrant more intuitive and relevant to individual users' needs and preferences, said Tim Savage, manager of the Office of Research and Economic Development's information systems team responsible for NUgrant.

NUgrant 6.0 consolidates items from the current menus into a single drop-down menu accessible from anywhere on the site, making essential items easier to find. Users are also able to customize how their page functions by rearranging items in the main drop-down menu as well as sections on their home page. Items that can be rearranged include sponsored programs, internal competitions, IRB protocols and IACUC projects. Items needing a PI's immediate attention are placed at the top of the home page.

Principal investigators and administrators can designate frequently used forms and projects as 'star' items. Starred items will be highlighted and prominently featured on the user's home page, making them easy to find.

Other NUgrant 6.0 features include:

- Advanced search capabilities that enable users to find projects, people, funding opportunities and core facility information in a single search.

- Drop-down menu navigation that includes a user's 15 most recently viewed projects and items needing attention, accessible from anywhere on the site with a single mouse hover.

- Enhanced IRB protocols.

- Ability to minimize or move less frequently used sections to the bottom of the drop-down menu or home page.

- Modern, elegant design.

Email comments or questions about the enhancements to nugrant@unl.edu.

NUgrant is a secure online system developed in 2006 by the Office of Research and Economic Development for UNL's research community. More than 2,800 UNL faculty, staff and students use NUgrant.
More details at: http://go.unl.edu/y2t